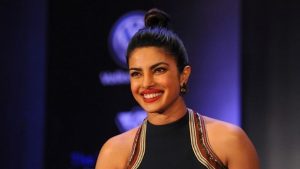 Like we all know, Priyanka Chopra a.k.a Piggy Chopps is running on a very good momentum when it comes to Hollywood movies and International television series. She has been doing pretty well since she has debuted on Quantico; which had an amazing first season last year and ABC network has already declared a second season which is set to premiere on 22nd September 2016.
Talking about Hollywood movies, she has grabbed a movie opposite the world's highest paid actor and one of WWE's biggest superstar Dwayne Johnson, better known as the Rock and Alexandra Dadario. The good momentum of Priyanka Chopra is continuing since she is all set to join Heidi Klum's (a super model) reality fashion show Project Runaway (season 15).
Facts You Need To Know About Priyanka Chopra's Next!
1.Project Runaway happens to be a very popular American reality show which encourages new talent in the fashion industry. There are other popular guests on the show like Camilla Belle, Annie Fullenwider (Editor in Chief of Marie Claire) and Nina Dobrev of Vampire Diaries.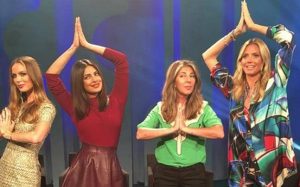 2.Priyanka Chopra made the announcement yesterday on her Instagram account which grabbed around 150 lakhs+ likes and got the internet trending on this topic. She even made the other guests do a Namaste pose which made us even more happy.
3.Piggy Chopps has recently turned down 6 Hollywood films according to a few reports. Chopra said that her schedule is very tight until march next year since she is into a contract to wrap up the second season of Quantico. She hopes that season 2 does as good as season 1, leading to a third season. In this way she hopes to interact with audience which she could have never interacted through her feature movies, Quantico airs in 200 territories worldwide.
4.The 15th season of Project Runaway is set to premiere on 15th September 2016. Zac Posen (a judge on show) claims that season 15 should be a historic season.
5.The contestants who would be participating on the show are Brike Allen, Laurence Basse, Sarah Donofrio, Ian Hargove, Tasha Henderson, Nathalia Jmag, Linda Marcus, Corenelious Ortiz, Roberi Parra, Jenni Ricceti, Kimber Richardson, Erin Robertson, Dexter Simmons, Alex Synder, Rik Villa and Mah-Jing Wong.
We hope that the good streak of Priyanka Chopra continues to reign and may she continue to sing songs like Exoctic, In my city and act in more popular TV shows and movies.
Image Sources: Image 1, Image 2 & Featured Image, Image 3.
Meet the Author