As elaborated in the previous part, categorizing or bracketing with a bird's eye views of Dr. Rajkumar's monumental works amounts to gross injustice but belittles amazingly versatile skills of the artiste who was born to perform.  No wonder, the adulation and affection he enjoyed amongst the legions of fans would have made equally capable artists lesser mortals, but I guess were resigned to the fact that Rajanna was more than a special talent.  Here are some more of his cult movies and again not in any particular order: –
NAA NINNA MAREYALARE. A contemporary social drama, Rajanna portrayed the role of a romantic racer falling in love with Lakshmi who marries another man owing to circumstances but reunites after her husband's death. Scenes involving Java motorcycle ridden by Rajkumar were resounding rage back then.  Music duo of Rajan-Nagendra came out with evergreen romantic songs that are not only melodious but also soothing and lilting when one here's even now. Ravishing Lakshmi and scheming Leelavati complemented Rajanna effortlessly.  What a movie indeed!
PC: jiocinema
KAVIRATNA KALIDASA. A historical social drama based on the life of renowned classical Sanskrit scholar named Kalidasa of the 04th Century AD who was extremely popular across the Indian sub-continent. Portraying the title role, Rajkumar was in his elements throughout the screen time. Right from playing dumb villager to transforming seamlessly into a scholarly poet showcases Rajkumar's outstanding acting prowess in superb grandeur. Actress Jayaprada was beauty personified and Srinivasa Murthy as Kind Bhoja was sublime.  Mellifluous romantic songs were brilliant. Complete family entertainer.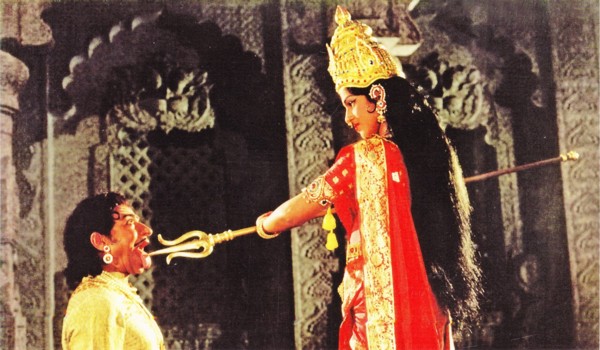 PC: periplosjottings
GANDHADA GUDI. Rajanna never looked more handsome and charming while depicting the role of an honest forest officer Kumar. This film will go down as a milestone in the career of Rajkumar seamlessly transforming him into a contemporary 1980s hero.  Another noteworthy highlight of the movie was Dr. Vishnuvardhan playing the antagonist those the character gets redeemed at the end of the film. This is the only occasion when two Kannada film stalwarts shared the screen space and it was worth in golds. Balakrishna, MP Shankar, Kalpana and Narasimharaju superbly complemented through their stupendous works. Movie is also remembered for giving the Kannada Film Anthem in the form of a song which requires no further mention.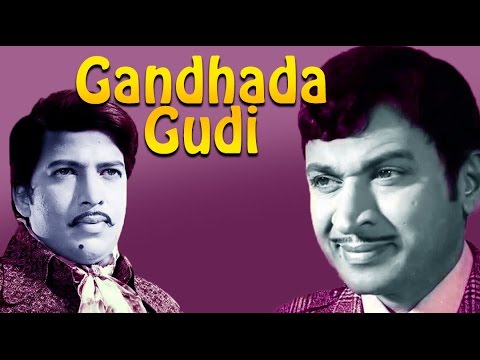 PC: YouTube
ERADU KANASU. Considered as one of the most iconic romantic films in Kannada, the movie is based on the novel of the same name by Writer Vani. Rajkumar played a college professor unable to come to terms with his previously failed relationship.  Eventually sours his relationship with his wife leading to upheaval in the family. Nuanced acting of Kalpana superbly complements Rajanna's mature performance.  Manjula, Balakrishna and Ashwath performed splendidly as well.  The music duo of Rajan-Nagendra came out with evergreen songs that continue to have a huge fan following.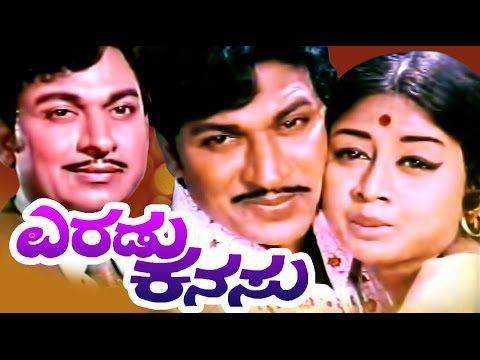 PC: YouTube
SAMPATHIGE SAVAAL. This indeed is a special film in the film career of Dr. Rajkumar. The story revolved around the rustic village settings where the protagonist challenges the tyranny of the landlord by rebelling against him and winning the affections of his daughter. Rajanna also made debut as a playback singer in this movie with an extremely popular song and went on to rule the singing roost for decades to come. Feisty Manjula was a treat to watch.  Scheming Vajramuni and cunning Balakrishna were equally superb. One of the several highlights of the movie was taunting exchanges between Rajanna & Manjula which went on to acquire cult status of its own.
PC: colorskannadacinema