Renowned as the 'SanTina', Sania Mirza and Martina Hingis doubles partnership came to an end! In recent times, their team was considered as one of the most successful women's doubles teams.
The split of Sania Mirza & Martina Hingis!
Sania's & Martina's partnership may have been brilliant in the women's doubles circuit; but reports suggest that the Indo-Swiss pair has finally decided to split. This decision comes as a huge surprise to tennis fans as the duo had won a number of competitions around the world including Grand Slams like Wimbledon, US Open (both 2015) and Australian Open (2016). Overall, SanTina won 14 titles since joining hands last year.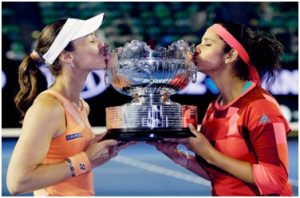 A dip in their recent performances!
However, their performances of late were below par, which seems to have been the main reason for deciding to play with different partners in the women's tour from here on. Sania's father, Imran Mirza also confirmed about the decision. He told ESPN, 'They were losing to lower ranked players. So the partnership wasn't working!'
Fresh beginning with new partners!
Sania Mirza & Martina Hingis were expected to compete as a pair in the upcoming Cincinati Masters; but now, one understands that both the players will feature with different partners. Sania will join hands with Czech player Barbora Strycova, while Hingis will be seen alongside American Coco Vandeweghe.
Sania and Hingis had a great understanding on the court, with their smiles being constant. Such chemisty helped Sania reached world number one in the doubles competition, but the Indian has to move on and find success with her new partner.
Source: Ibtimes