The 117th Shree Damodar Bhajani Saptah has begun yesterday. It was kicked off in Vasco post a srifal was offered to the lotus feet of the deity Damodar at Shree Damodar temple. The initial rituals were performed by industrialist and senior member of Joshi family Paresh Joshi post which they brought the srifal to the premises of the temple.
117th Shree Damodar Bhajani Saptah, 7 Highlights
1. Bhajan's Will Continue For 24 hours
Just like every year, at 12.30 P.M the singing of bhanjan began and it will continue for the next 24 hours. Today the Bhajans will end at 12.30 p.m. This time the celebration was kicked off amidst great religious fervour after Ashok Manohar Mandrekar (Shivalkar) the local artist commenced the bhajan by chanting 'Hari Jai Jai Ram Krishna Hari'. Ashok Mandrekar was accompanied by Anil Kondurkar and Radhakrishna Shetye.
2. Gopalkala
The shreefal which has been offered will be taken on a procession to Khariawada beach today. This marks the end of the non-stop bhajan saptah. One interesting thing to watch here is the music of "Dindi" called "Gopalkala" which is done by the devotes.
3. The Six Groups Participating In Floats
There are six groups who participate in floats during the Damodar saptah. They depict scenes from the Hindu mythology. The groups are Failwale, Nabhik Samaj, Daivaidhnya Bhrahmn Samaj, Bhajarkar Samiti, Vishwakrma Samaj and Gadekar Samaj.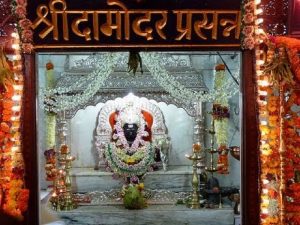 4. Huge Crowd and Big Names Came To Sought Blessings From The Deity
Huge crowds gathered at the temple with numerous offerings to seek the God's blessings of the deity. Apart from common people who came in there were many big names who became a part of this week long celebration, Chief Minister Laxmikant Parsekar, Deputy Chief Minister Francis D'Souza, Minister for Forest and Environment Rajendra Arlekar, Industries Minister Mahadev Naik, Power Minister Milind Naik, Minister for Art and Culture Dayanand Mandrekar, Deputy Speaker of Goa Legislative Assembly Vishnu Surya Wagh, Mormugao municipal council chairperson Deepak Naik, deputy chairperson Shashikant Parab, chief officer Deepali Naik, Vasco MLA Carlos Almeida, Panaji MLA Siddharth Kunkolienkar, Cuncolim MLA Rajan Naik, Velim MLA Benjamin Silva, industrialist Narayan Bandekar, deputy superintendent of police Vasco Sucheta Dessai, former union law minister Ramakant Khalap and superintendent of police North Goa Umesh Gaonkar.
5. Strong Pose Of Police & Security
Around 9 watch towers along with CCTVs have been installed for the purpose of security. Sagar Ekoskar the police inspector of Vasco said, "Around 300 police staff is deployed along with commandos, Indian Reserve Battalion personnel, Goa police and staff in civil clothes. We will try our best to zero down petty crimes which usually take place at saptah like pickpocketing and chain-snatching. The Goa police is ready." The police posed a very strong position so that the Saptah celebrations could run smoothly.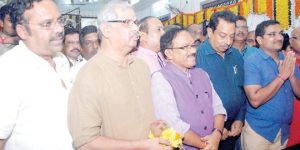 6. Transport Arrangements
The traffic movement is being personally monitored by the Vasco traffic cell PI Sudesh Narvekar. Until the rituals are completed no Heavy vehicles will not be allowed in the town. Proper arrangements have been made for parking. Four-wheelers will be allowed to be parked at the KTC bus stand and two-wheelers at the St Andrew's church.
7. Large Number Of Stalls Installed
This celebration is quite popular for its numerous number of interesting stalls. These stalls are installed near the Damodar Saal and will be extend for a week or more.
Huge number of people were seen flocking for the Saptah fair and also to receive the blessings of deity Damodar.
Long queues of people were formed but everything seems to go on smooth and peaceful. No reports of untoward incidents.
Image Source: Image 1 & Featured Image, Image 2, Image 3.