Recently on September 30; Sardul Khedda, in the North Western state of Rajasthan, a leopard got his head stuck in a water pot while it was searching for water. The following points below tell us about how he must have got stuck and what were the aftereffects.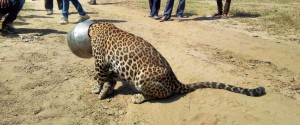 1. It is believed that the animal was looking for food and water
When this incident took place, it is said that the leopard got his head stuck in a metal pot when he was searching for food and water. When it attempted to drink water from the pot; unfortunately his head got stuck in it.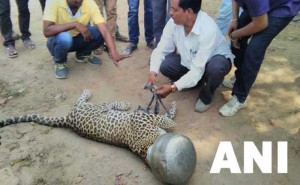 2. Locals filmed the leopard as it struggled
The leopard got itself stuck for around 5 hours. During this duration, the locals filmed the leopard and within hours the video got viral throughout the internet and an animal rescue team was prepared and made to leave for the help of the leopard.
3. Use of tranquilizer and freeing the leopard
The leopard got his head stuck for around 5 hours before it got freed by an animal rescue team. It was hit by a tranquilizer and the metal pot was removed. District Forest Officer Kapil Chandrawal said that "The sub-adult panther, aged about 3 years, wiggled a lot and made efforts to get his head out; but all attempts failed. On receiving information by locals, our team reached the place and shifted him to an enclosure where it was tranquilized and his head was freed. After the leopard is fully recovered, it will be set free in a dense forest area.
A study says, that the population of leopards lies anywhere between 12,000-14,000 which is a significant increase from the past decade when their population was falling rapidly. And instances like this show that our forest departments are working quite hard for the protection of these wild animals, which is an achievement for India.
Image Source: Image 1, Image 2,Image 3,  Featured Image.