From today we are officially on the road to Royal Rumble 2017. Just three more months and then we will be on the road to the biggest stage in live entertainment WrestleMania which is all set to take place in Camping World Stadium in Orlando, Florida. To brief up the audience who have recently started watching WWE. Royal Rumble happens to one of the 4 major PPVs of WWE in a calendar year.
In this match 30 men compete each other for a chance to main event WrestleMania. Two men begin the match and after every 1.30 minutes a new contestant joins them (according to the numbers drawn). Eliminations occur when you are thrown over the top with both feet touching the ground.
The other three happens to be Summerslam, Survivor Series (Scheduled to take place on 20th November) and WrestleMania. Recently WWE announced a major news regarding Royal Rumble 2017. The historic PPV returning to Alamodome, San Antonio Texas after 20 years. In this article I will tell you all you need to know about Royal Rumble 2017.
Royal Rumble 2017 To Take Place At San Antonio's Alamadome
1.The last time Alamadome hosted Royal Rumble was 20 years back in 1997. The last time the Royal Rumble took place here, we saw Stone Cold Steve Austin winning the Royal Rumble match and Shawn Michaels winning the WWE championship.
2.It is pretty clear that WWE are planning to generate a lot of revenue from Royal Rumble 2017. Since 1998, WWE has been booking Royal Rumble at stadiums where the maximum capacity of the crowd is 15,000 – 20,000. But at Royal Rumble 2017 the capacity is going to be 60,000. That is four times the last year.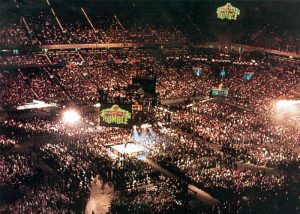 3.The last time WWE planned something big for the Royal Rumble, they had completely failed. The main event picture was built around Shawn Michaels the last time Royal Rumble took place at Alamadome.
4.WWE had thought that since Texas happen to be the home state of Shawn Michaels they would be able to sell their tickets. But it didn't work out that way. They had to sell their tickets at a very cheap price and it is also said that they gave away free tickets to save themselves from the embarrassment.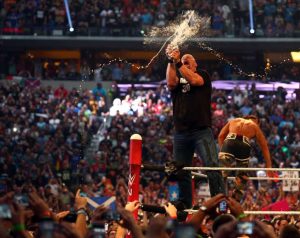 5.WWE would be doing everything possible this time to make Royal Rumble 2017 a huge success among the fans. We are expecting a huge card with big names and returns.
6. Nonetheless I can guarantee that you will see two things at the Royal Rumble 2017. The first one happens to be Shawn Michaels and the second one is something one getting stunned by Stone Cold Steve Austin.
Image Sources: Image 1 & Featured Image, Image 2, Image 3.