Here comes really shocking news, popular reality TV star Kim Kardashian West lost several million euros after being robbed at gunpoint in a Paris hotel. She was robbed by 5 assailants disguised as police men, these robbers made off with millions, mainly in jewellery. Let's know the whole story in details.
Millions Stolen After Kim Kardashian Was Robbed At Gunpoint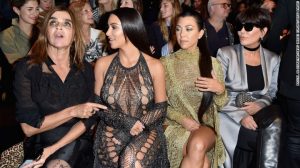 1. Incident Took Place Early Monday Morning
This incident took place early Monday morning local time, according to a spokesperson for Kim Kardashian following the incident the celebrity was "badly shaken but physically unharmed".
2. Five Men Threatened The Concierge
The five men threatened the concierge with a weapon and handcuffed him and further forced him to open the private apartment. According to the Paris Prosecutor's office two out of the five men were able to gain entry to Kardashian's room.
3. Kim Kardashian West Was Locked In A Bathroom
While the men robbed the celebrity they locked her in a bathroom and took two cell phones and jewellery worth millions of dollars. According to the prosecutor's office a ring, worth $ 4.5 million and a jewellery box were stolen.
4. Kim Kardashian Is Currently Overseas For Paris Fashion Week Along With Her Family
Currently Kardashian West is overseas for the Paris Fashion Week along with her family (mother, Kris Jenner, and sisters, Kourtney Kardashian and Kendall Jenner). In Paris she was staying at a private mansion.
5. No One Was Injured
No one was hurt during the incident and also the fine men did not discharge their weapons said the French Interior Ministry's spokesperson. But again there was no clarity if Kardashian West's family, which included her two young children, were present there during the incident.
Kanye West Cancels Show For Family Emergency
Kim Kardashian husband, popular rapper Kanye West, announced a family emergency and abruptly left the set at the Meadows Festival in New York on Sunday night. The Meadows NYC's confirmed on their official Twitter account that West would not be coming back to finish his set.
When Kanye West starts Heartless and then stops the show because of a family emergency ??? pic.twitter.com/0xiPDycb4g

— Chloe Tsang (@itschloet) October 3, 2016
Well! Kim Kardashian West robbed At Gunpoint In A Paris Hotel Room that was definitely a shocking incident isn't it?
Image Source: Image 1, Featured Image.