There is no denying the fact that frontline healthcare professionals are facing tremendous pressure and stress in tackling the novel coronavirus's unabated march scaling new peaks every other day across the country. A few of the states where the infection is high are facing challenges from different fronts and one of the most distressing sights is to see Doctors resorting to committing suicide unable to handle the situation. In an unfortunate incident, a Taluk Health Officer took his life in Karnataka last week allegedly owing to work pressure.
PC: szdaily
Note that ever since the pandemic was declared, the healthcare or health warriors, as these brave workers are proudly addressed, are facing mounting challenges to not only provide succor to people infected with the virus but also ensure carrying out other related works vis-à-vis treating, tracing, tracking, and treatment. As the infection rates started showing signs of an alarming rise in few districts of the state, efforts to undertake more testing and contact tracing too acquired sense of urgency as any delay would have proved costlier otherwise.
The Government had to initiate the said measure to ensure the economic activity does not suffer further setback since successive lockdown proved devastating for the financial well-being of the State. Preempting infection cases from rising further assumed paramount importance and hence, scaling of testing is a natural measure that had to be invariably introduced. Whilst tackling the menace, it appears the Government has conveniently ignored viewing with compassion the work pressure on health warriors on the job since March.
PC: armenpress
If reports are to be believed, scores of health warriors are on the road virtually without leave, break, and/or weekly offs for months on now. Many have sacrificed their comforts, including foregoing familiar family's soothing presence, in the line of increasingly demanding duties. Reports emerging on the matter also suggests that targets are being set for Primary Health Centers (PHCs) daily to undertake to test and to achieve the same without fail. Besides this, there is any number of reports for uploading details, so collected, to different agencies too.
Kindly note that many such Primary Health Centers might be understaffed as well leading to the more demanding workload on the already stretched thin resources underlining the grave dangers of inadequate healthcare infrastructure. The Government has to compassionately view the present scenario and augment resources by relocating/allotting/shuffling healthcare professionals where the demand is relatively lesser as compared to other places. The pressure is telling on the frontline health warriors and mitigating the same should be prioritized.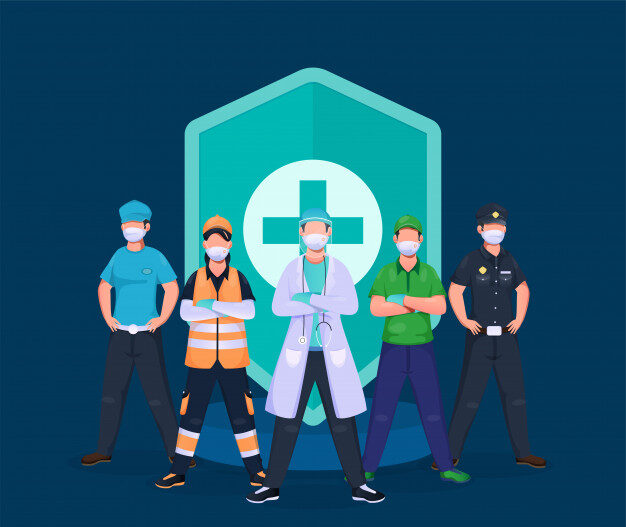 PC: freepik
On their part, the Doctors and other health warriors are to desist from committing hara-kiri by taking their own lives which serve no purpose other than pushing the families to great sufferings. There are helplines and councilors available to serve distressed individuals and their services could be sought for timely assistance. This is a fight requiring joint efforts and not working in isolation or under duress. Do not indulge in any personal harm, please!