Yeah, you heard it right, 'Pollution scares Mumbaikars!' A thick blanket of smog engulfs Mumbai city for two consecutive days; Deonar fire, mercury drop and air pollution are blamed. The smog and pollution levels are so high that it had infact matched the pollution levels of most polluted city of the world, Delhi! If you love to live a safe life in Mumbai, then you should know these 7 facts:
Pollution scares Mumbaikars!
1. Reason for this thick blanket!
According to the weather experts, the reasons behind this thick blanket of smog engulfing the city varies from the Deonar dumping ground fire to city's minimum temperature dropping to 14° C to the high levels of particulate pollutants in the air.
2. Deonar dumping ground fire!
A couple of fire incidents took place at the Deonar dumping ground that caused heavy smoke. And, this soon spread to the eastern suburbs, making it difficult for the people to breathe!
3. Mercury drop!
According to IMD Mumbai, the temperatures of various areas of Mumbai have dropped. Santa Cruz has recorded minimum temperature of 14° C, while Colaba has recorded the same as 18.5° C. This drop in temperature is also considered as a reason for the increased pollution.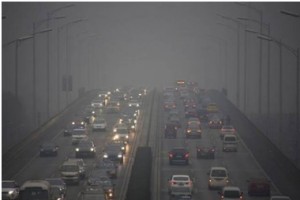 4. Air pollution!
Although the weather and increased moisture are considered a reason for the spike in pollution levels; but this huge jump is recorded because of the higher concentration of Particulate Matter (PM) 10 pollutants. The open bio-fuel burning enhances the coarser particles like PM 10 instead of PM 2.5, and thus is dangerous.
5. Recorded the most polluted day!
The System of Air Quality and Weather Forecasting and Research (SAFAR) have recorded the highest Air Quality Index (AQI) of 341 on Friday, being the worst since it had started recording since June. The previous worst recording was 313 on 12th November, 2015, the day after Diwali.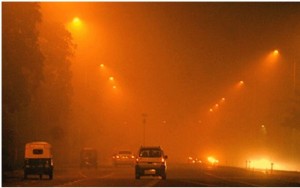 6. What exactly AQI is?
AQI is a terminology used for Air Quality Index, which transforms complex air quality data of various pollutants into a single number, nomenclature and color. AQI is calculated as per National Ambient Air Quality Standards for short term up to 24 hours for eight pollutants including PM 10, PM 2.5 and CO.
7. What AQI levels are safe?
If the AQI level is above 100; then the air is not considered safe for breathing. AQI levels higher than 200 are even hazardous for health; and in case they range between 300 and 400; then they are considered very poor!
There is an urgent need to curb the problem of pollution. We must tackle all the pollution sources including vehicular pollution, garbage dump, coal storage, burning of plastic, etc.