Burgers are something which everyone enjoys. And why wouldn't one like it? It has everything which a person needs to satisfy his/her belly. Well, talking about the origin of the burger; it is and will always be disputed. The reason is obvious who wouldn't want to be credited with the origin of this legendary sandwich. America and Germany are the two countries which claim that burger originated in their country.
There are few other countries who claim the legendary sandwich to be of their origin but their claims aren't credited to be valid. A study suggests that America is the largest consumer of burger in the world. In this article I will tell you about the 5 best burger joints in America.
5 Best Burger Joints In America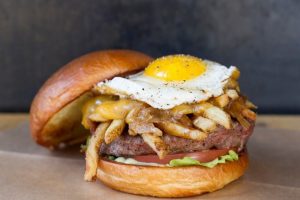 1.Hopdoody Burger Bar
You will find this burger joint in Austin, Texas. This is certainly one of the best burger joints in America, not only their unusual burger is delicious they are environmental friendly too. Talking about their burgers, imagine lamb with feta or beef with chili and Fritos? I bet you are already craving for Hopdoody's burger!
2. Casper & Runyon's Nook
Casper & Runyon's Nook are based in Saint Paul, Minnesota. You will a huge number of burger choices and you will surely find a family style atmosphere. Trust me the atmosphere is so great; you won't feel like leaving the place. If you are visiting this place for the first time, make sure you try their juicy nookie burger.
3. Au Cheval
This is certainly one of the burger joints in America which provides heavenly burgers. You can find this place in Chicago, Illinois. This is one of the few places in America which serve a burger with a fried egg which enchases the flavor of the burger.
4. Minetta Tavern
Minetta Tavern is one of the most famous burger joints in America and New York. A burger here would cost you $28. I know they are asking a lot for a sandwich but trust me it is worth it. Caramelized onions which are perfectly browned with beef and the burger just tastes delicious.
5. The Cherry Cricket
The Cherry Cricket is located in Denver Colorado. The best part about this place is that there are over 30 toppings to choose from. The diners can customize their burger according to their own choice. This is certainly one of the best burger joints in America.
Image Sources: Image 1 & Featured Image, Image 2, Image 3.