Yeah, this new year is proving to be a season of splits, at least for Bollywood film industry! After the talented actor Farhan Akhtar and his wife, Adhuna Akhtar parted their ways, came news of separation of Ranbir Kapoor and Katrina Kaif. Now, a recent rumour has got due weightage that Malaika Arora Khan and Arbaaz Khan are heading towards separation!
Malaika Arora Khan and Arbaaz Khan not living together
Ever since Malaika stopped appearing in the Sony TV reality show, Power Couple; there have been rumours and speculations regarding the couple's trouble. According to a report in SpotBoye.com there is something which is not good in the Khan's paradise and due to this trouble between the couple, Malaika has apparently moved out of her residence, Galaxy Apartment, Bandra.
Furthermore, Malaika has left the apartment with her son, Arhaan. And she is now reported to live in her sister, Amrita Rao's in laws' apartment situated in Khar. These developments had taken place in the past few weeks. The news further added that Malaika is supposedly dating a UK based businessman.
Malaika and Arbaaz married in the year 1998 and ever since then they have been living peacefully and happily. They are blessed with baby boy, Arhaan in the year 2002.
Earlier this month, the rumour news of trouble in between the couple hogged the limelight when Malaika was missing from the show, Power Couple. Even, there was a rumour that the couple didn't talk on the sets and had asked for separate rooms too! A newspaper had even reported that 'The real reason behind her absence is that she and Arbaaz are going through some personal issues. In order to avoid a public squabble, she is staying away!'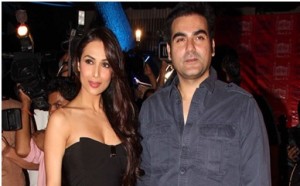 In response to this, Malaika made a statement that 'The show format is such that I come in for special episodes only. There is no problem between Arbaaz and me. I have not been missing. I had signed up for a few episodes only!'
On one hand, the Khan family is in the mood of celebrations, as Arpita Khan Sharma is pregnant. While on the other hand, Arbaaz-Malaika's trouble has came up giving the family sleepless nights! And, to the top of it, Malaika's absence in the Arpita Khan's baby shower also added some more fuel to all these rumours.
But, recently Malaika's manager had called all these rumours rubbish! He made a statement to one of the newspaper, 'As far as I know they are very much in love and are not headed for a divorce.'
However, there has been no official statement from the Khan's side regarding the truth of the story; so we just need to wait for some time for their official statement. Hope everything is fine between the couple!