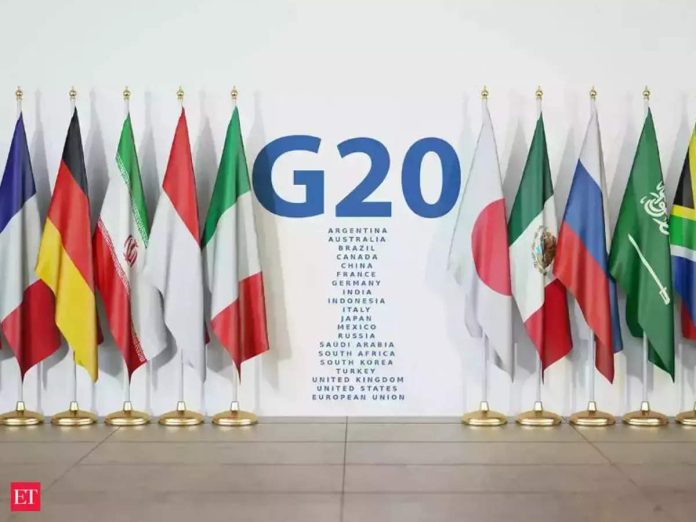 The Union Government has left no stone unturned in its endeavour to derive maximum mileage out of the G20 presidency that was bestowed last year on a variety of issues directly or indirectly affecting the global economy as well as communities. Personally fronted by Prime Minister Narendra Modi, the G20 meetings held across the length and breadth of the country's several cities have only added to the global community's wish to explore the fabulous diversity of India in all its hues and colours. Remember, the PM has made no bones about how the nation will be counted amongst the developed ones by 2047. Moreover, Indian society continues to further its aspirational objectives with nonchalance by embracing every available technological tool too.
PC – Shishir Gupta
No one is complaining, except maybe the opposition political class who desperately wish to denigrate the ruling dispensation at every step. Despite naysayers attempting to corner the Union Government, India's G20 presidency has definitely lived up to its billing. India's persistent effort to take forward efforts to find a solution to two big global challenges, debt relief for poorer countries and designing a global regulatory framework for crypto assets has been lauded wholesomely. Of the two, debt relief is more urgent as it impacts the financial, social, and political stability of many countries. G20, among global bodies, is best equipped to find a solution as all key stakeholders are represented in the membership.
As reported, IMF's data showed that at the end of 2021, debt as a percentage of GDP in low-income developing countries had reached dangerous levels when measured against their economic capacity. It was 88%, with public debt at 49%. It's not the first time they have faced a debt crisis. But it's the first time their creditors are simultaneously grappling with a geopolitical rivalry. This is where G20 needs to step up and dispel the notion that it's just a talking shop. The forum did its bit during the pandemic when it launched an initiative for a debt moratorium that ended in December 2021. It then created a common framework for debt treatment that covers 73 countries. Creditors can be divided into three groups, and they are not on the same page.
PC –  Rhea Mogul
Note that there's the Western bloc, China, which is now the world's largest bilateral lender, and private lenders mostly from developed countries. Needless to mention, all three must simultaneously come on board for a solution as wary creditors fear debt relief from just one stakeholder may lead to the others collecting in full. Here, despite the best efforts of India's G20 representatives, Chin and the Western bloc haven't done enough to narrow their differences. On crypto assets, there's been progress. IMF and the Financial Stability Board are to present a roadmap now to regulate them. It's in everyone's interest to coordinate action to crack down on money laundering and terror finance. G20's to-do list could get longer as well.