No matter how early you start toilet training, your baby will only pickup skills when she is physically, intellectually and emotional ready to. Donot lose heart if your baby is not co-operating just keep trying-patience will pay you!
1.Try using sign language if your baby is below 1 year, and use the same sign every time   you speak of pee or poo.
2. Take her to the loo if she makes the sign and congratulate her with lots of clapping     and smiles if she does it.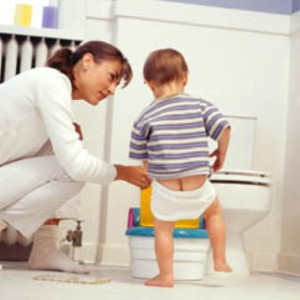 3. Sometimes your baby may give you clue but pee before you take her to the toilet,   donot get angry but encourage her for making an effort, because your baby will not     be able to hold or control her bladder till 2 years.
 4. Donot rely only on her signals alone but take her to the bathroom according  to her peeing pattern & continue till she gets familiar that she has to do it        here.
5. Some toddlers wont sit on the potty long to relax, calmly encourage him to sit  there by showing some picture book or telling a story, let him sit there for few  minutes before he start.
6. Even when your child is consistently  dry all day, it may take him several more months to master being dry at night. His body is still immature to       wake up in the middle of the night just to go to the loo.
7. Help cutting down on wet nights by reducing his fluid intake before  bedtime., but         make sure he takes lot of  fluids during the day.
Remember that every child is different and has their own pace of learning. Do not push too much to train him, if he is not showing any interest, put the potty aside for few weeks before trying again.
All the best!
Image Sources: Image 1, Image 2, Image 3, Image 4, Image 5 & Featured Image