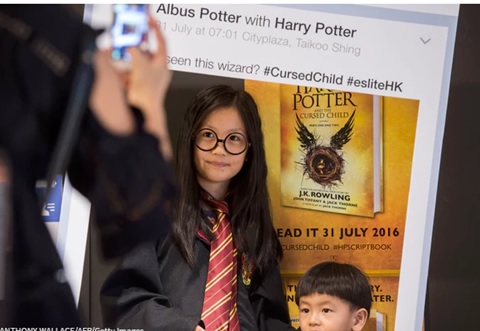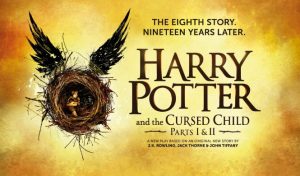 If you are any type of Potterhead, it's probably already crossed your mind to read the Harry Potter series to your children. That's like one of the major perks about having kids, right? But don't leave out the newest edition to J.K. Rowling's wizarding world — there's a reason why reading Harry Potter and the Cursed Child to your kid will bring you closer.
It's no secret that all of the books in the Harry Potter series carry some incredible lessons: ones about judgment, discrimination, standing up for what's right and doing the hard things are all prevalent, even in the script for Harry Potter and the Cursed Child. The eighth book is also great for your little one's imagination as the two of you can read the story out loud, trading character voices, and acting out stage directions. But for bringing a parent and their child closer together, Harry Potter and the Cursed Child nails it with a perfect look at an imperfect relationship between father and son.
I know, you probably didn't defeat the darkest wizard of our time, save the world, or go through some huge tragedies and sacrifices to get where you are today, but that doesn't mean you and your child don't butt heads. In Harry Potter and the Cursed Child, Harry and his middle child, Albus, seem to constantly be at war. Whether it's because Harry expects Albus to be something he's not or because Albus simply can't handle the burden of being Harry Potter's son doesn't really matter. The root of the problem is, in the words of Will Smith, that sometimes parents just don't understand.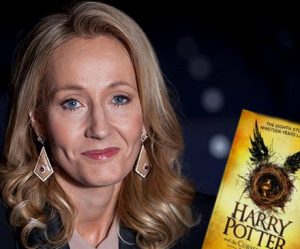 Sounds too simple, right? But that's just it — parenting, in general, sounds pretty simple and straightforward. You love your kids, you raise them well, and you do the best you can. But there are so many intricacies and ridges in the role of parenthood that it's easy to lose track of how big and dynamic your role as a parent is. Harry loves Albus deeply, fiercely, and just like he loves his other two children. But children need more than love — they need someone to listen, to understand, and to focus on the things that make them different, not the same.
Reading Harry Potter and the Cursed Child out loud to your kids isn't just good parenting — it's an opportunity to listen and have a discussion. These are tough things to talk about. It's hard for kids to say how they feel and it's equally hard for parents to articulate. Sometimes it feels like there's an elephant in the room between you and your kid, but neither one of you know how to move it. You're both angry or frustrated or sad or worried or anxious, but nobody is saying anything. Harry Potter and the Cursed Child can do the talking for you. When you let your children read the words of Albus, they can dive into that character. And even if you two have never had any issues, it can open your child's brain up to the idea that, one day, you two probably won't see eye to eye. But they won't be confused by it or wonder where it came from — they'll remember from the eighth Harry Potter story that, sometimes, parents just don't understand. And with the encouragement from you reading this story out loud, your children will feel safer and more comfortable bringing up the hard moments to you without worrying about how you'll react or how to articulate.
Think of all the times you've referenced a book or movie scene when you wanted to articulate something. Now imagine Harry Potter and the Cursed Child through your child's eyes. It's like a manual on how to talk to your parents. When the two of you read it out loud, you get to be these characters. It's much more dimensional than simply reading a novel and really puts a voice behind the story for both of you. When your kid has a day where they are angry with you or aren't sure how to start a conversation, the memory of reading Harry Potter and the Cursed Child can steer them in the right direction. They will know that you'll listen. They will know that you care. And they will know that you want to hear what they have to say.
And they'll know that if things get too out of hand, there's a chance they could destroy almost everybody in the entire world, including themselves, and create some kind of dark, alternate universe. But that's just a bonus.
Source: Romper
Image source: Featured image