The future of India is in the hands of the upcoming generation, but this piece of news will make us worry. According to an assessment by the Delhi government`s education department more than 50 % grade 6 students studying in government schools can't even read. Only a fourth can actually read something from their Hindi textbooks or from a Class 2-level English book. Isn't that really shocking, where is this generation heading to? Is it the students themselves or the school who is responsible of this shocking flaw? Let's know what the assessment report say –
Half Of Class 6 Students In Delhi's Government Schools Cannot Even Read
1. Chunauti-2018
These shocking fact was revealed in the results of an assessment conducted by the Delhi government`s education department under its "Chunauti-2018" programme. The assessment was done on the class 6 students studying in government schools. The "Chunauti-2018" is a programme which aims at enabling the students of government schools, specially Class 9, to overcome the opposing effects of the "no detention policy". The main idea behind "Chunauti 2018" is to prepare the class 9 students in the academic year 2016-2017 so that by the year 2018 they are ready to appear for the Class 10 examinations in 2018. Chunauti 2018 aims to train and mentor the student regardless of their learning levels at this point. The assessment was done by 1011 government school between the July 14 and 16 where 2,01,997 students of class 6 were assessed.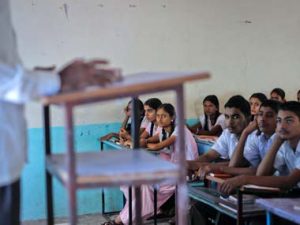 2. Students Unable To Read A Single Paragraph
According to Manish Sisodia, the Delhi`s Deputy Chief Minister and also holds an education portfolio, around 74 per cent students in government schools studying in class could not read a single paragraph from their Hindi textbook. While less than half, which is around 46 per cent of students could not read a simple story of class 2 competency. There were some 13% students who couldn't even identify letters. Manish Sisodia tweeted from @Minister_Edu twitter handle – "74 per cent students of 6th standard could not read a paragraph from their own Hindi textbook. 46 per cent could not read a simple story of standard 2 level competency and 8 per cent could not identify letters".
3. Children Found Weak In Basic Maths
It's just not about reading hindi and English, but students were found to be immensely weak in basic maths. According to the Deputy Chief Minister tweet – "Similarly, in Maths: 67 per cent children could not do simple three digits by one-digit division. 44 per cent children could not do two digits' subtraction with borrowing and 5 per cent children could not recognise single digit numbers"
4. Plan To Track Progress
Post the launch of "Chunauti 2018" on June 27, a baseline assessment of all class 6-9 students of government schools have been made. This assessment was conducted to mark the starting point of the proposed intervention as by determining the current learning level of children their progress can be tracked periodically.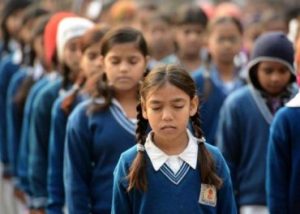 5. Nishtha and Pratibha
Based on the results the children have been re-organised in two groups – Nishtha and Pratibha. The prime focus point for the children in Nishita group will be to build basic reading, writing and numeracy skills in next couple of months. On the other hand, the main focus of the Pratibha group will proceed with the grade specified curriculum.  According to an official statement made – "As soon as children of Nishtha group learn to read, the grade specific curriculum would be introduced to them as well so that they can participate in learning activities more confidently,"
This piece of news does breaks my heart as an Indian. But the plan does gives light to some hope. I am sure with governments plans in place and the hard work of the children themselves the future of India will shine out bright.
Image Source: Image 1 & Featured Image , Image 2, Image 3, Image 4.