We all know that we are officially on the road to WrestleMania! With just 3 days away from Fastlane, here are some predictions about the match card. This is going to be the worst Pay Per View (PPV) before WrestleMania!
There are 7 official matches which are to take place at the PPV. Let's have a look at them and predict about who could win the match.
Fastlane Match Card: Predictions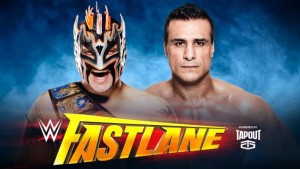 1.Kalisto V/S Alberto Del Rio – WWE United States Championship
A person who won the US championship by beating a 15 time WWE world heavyweight champions, lost the championship to a cruiser weight whose character hasn't been developed properly. Being very frank, Kalisto was never build good enough to take over the prestigious US tittle. I think Vince McMahon has himself realised the fact and should put the belt back on Del Rio. This match is certainly a waste!
Prediction: Del Rio wins the US Tittle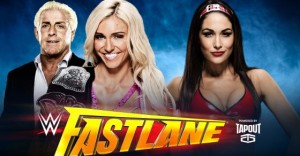 2.Charlotte V/S Brie Bella – Divas Championship
WWE wants to kick off divas revolution, right? The kind of booking you are doing with female wrestlers is going to take you nowhere near to that mark. Brie Bella isn't even close to her talented sister and definitely nowhere near the mark when compared to Sasha Banks or Becky Lynch. I don't understand the reason she got the tittle shot ahead of Banks or Lynch. This is another bad booking done by WWE.
Prediction: Charlotte Retains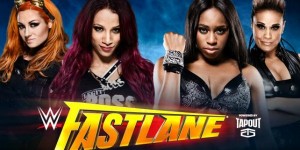 3.Becky Lynch & Sasha Banks V/S Naomi & Tamina – Tag Team Match
Let's say this match has a proper story line, and probably the only divas story line which WWE has managed to deliver properly in the last few months. If these divas are able to deliver the match properly, then all of them can come back to spotlight. But the problem is that we see enough women tag team matches on RAW and Smackdown to conclude that we aren't really interested in this match. Again a waste of talent!
Prediction: Becky Lynch & Sasha Banks win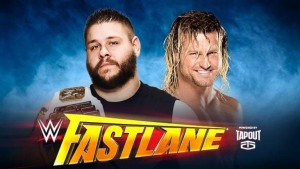 4.Kevin Owens V/S Dolph Ziggler – Intercontinental Championship
I get it that WWE wanted to have Dean Ambrose V/S Kevin Owens at WrestleMania, but I don't understand why make Owens defend the tittle against Ziggler yet again. I strongly believe that there are many other talented wrestlers waiting for a push. We have seen enough of Owens V/S Ziggler to conclude that we aren't interested in this match.
Prediction: Kevin Owens Retains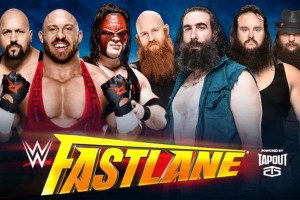 5.Ryback, Kane & Big Shows V/S The Wyatt Family – Tag Team Match
Booking Wyatt family against a bunch of jobbers and way former relevant WWE performers? This is certainly a waste of time. Seems like WWE just wanted to add a match to Fastlane match card. No proper storyline which leads to further non interest!
Prediction: The Wyatt Family wins.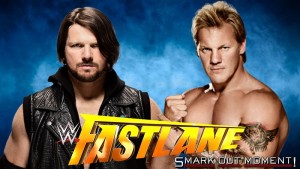 6.AJ Styles V/S Chris Jerico
This is probably the only match in the Fastlane match card that nobody can easily predict. Both of them are highly talented and moreover their story line has been extremely great. Great promos & great wresters are a perfect combination for a magnificent match.
Prediction: AJ Styles Wins.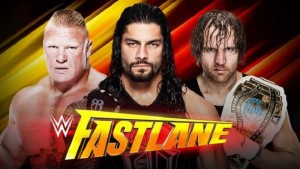 7.Dean Ambrose V/S Roman Reigns V/S Brock Lesnar – Winner to face Triple H for the WWE world heavyweight championship at WrestleMania
This match is predictable but is certainly exciting. The main thing to predict in this match is the involvement of Bray Wyatt. I am sure that Lesnar would be getting Sister Abigaled by Wyatt so that a match could be set up at WrestleMania. Roman Reigns Spears Dean Ambrose to face Triple H and take his revenge.
                               Prediction: Roman Reigns Wins
So, 2 matches with a maximum length of 1 hour(combined) might be interesting. The rest 2 hours which include 5 matches, are going to be a waste which is enough for us to conclude that Fastlane is going to be the worst PPV before WrestleMania.
Image Sources: Image 1,Image 2,Image 3,Image 4,Image 5,Image 6,Image 7 & Featured Image.
Meet the Author