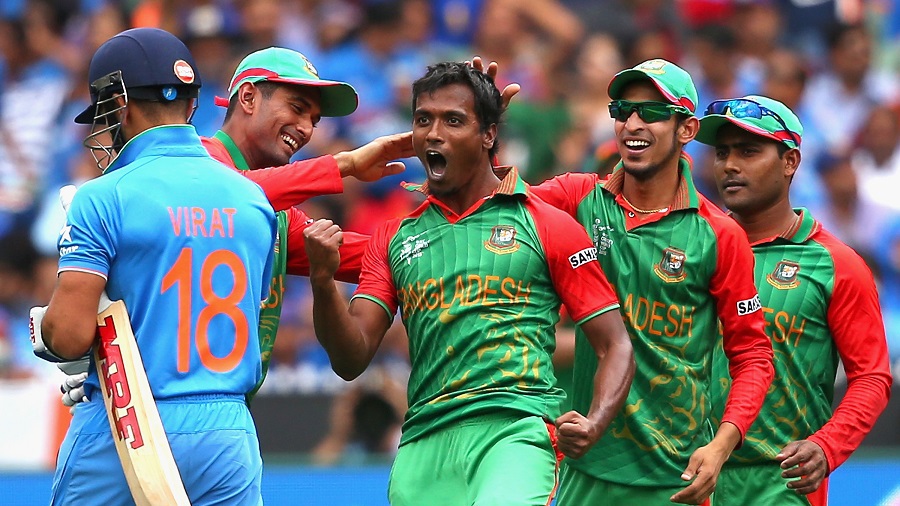 Cricket has always been the most interesting and coolest game played all around the world. It is not even just played, it is worshipped by people all over. Cricket is a game where the game can change any second, even on the last ball of the match. That's why it is said expect the unexpected in this game. Here are 12 some biggest cricket upsets in 2015 where things happened that we never thought will happen:
1. Australia Tri-Series: India, England, Australia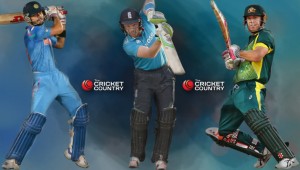 At the start of 2015, we were expecting that India will win some mind blowing matches, but we got nothing but disappointment only. Australia won this series and India did not win a single match. First match with India was played on 18th January at Melbourne Cricket Ground, Melbourne and against Australia and Australia defeated India by 4 wickets. Second match India played with England and the result was same. England won the match by 9 wickets on 20th January at The Gabba, Brisbane. India got the last chance on 30th January at W.A.C.A. Ground, Perth against England, but the result was same like before, England won by 3 wickets. So, India was out of the tournament and the final match was played between Australia and England on 1st February at W.A.C.A. Ground, Perth and Australia won the match by 112 runs.
2. Bangladesh Vs Ireland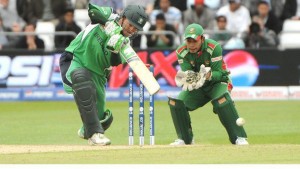 This match was played in World Cup 2015, Game 12, on 12th February at Blacktown Olympic Park Oval, Sydney. Bangladesh was considered to be a strong team against Ireland as they were performing amazing in their matches. Everyone thought that Bangladesh would defeat Ireland, but things changed and Ireland defeated Bangladesh by 4 wickets.  Bangladesh was all-out for 189 runs in 48.2 overs and Ireland achieved that target 190-6 in 46.5 overs.
3. Bangladesh Vs Afghanistan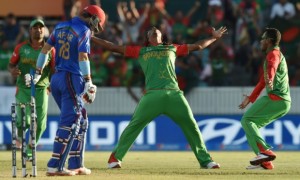 This match took place in the World Cup 2015, Game 8, played on 18th February at Manuka Oval, Canberra. Bangladesh put the final score of 267 losing 10 wickets. In defence, Bangladesh booked Afghanistan on 162 runs in 42.5 overs and won the match by 105 runs.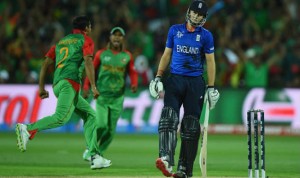 4. England Vs Bangladesh

This match took place in the World Cup 2015, Game 33, played on 9th March at Adelaide Oval, Adelaide. Bangladesh just surprised everyone and defeated England by 15 runs and made the match a worth watch. Bangladesh scored 275 runs for the loss of 7 wickets in 50 overs and in the chase England were all-out for 260 runs in the over 48.3.
5. India Vs Australia
This match was the second semi-final of the World Cup 2015 on March 26th at Sydney Cricket Ground, Sydney. India defeated every team in this World Cup, but it lost the second semi-final against Australia, which no one was expecting as India was not looking in any mood to lose the World Cup 2015. But that day was not in favor of India. Australia made 328-7 in 50 overs and India were all-out for 233 runs in 46.5 overs.
6. Pakistan Vs Bangladesh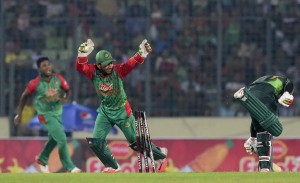 Pakistan Tour of Bangladesh was the interesting and most amazing one anyone can watch such a match. Bangladesh played three ODI's with Pakistan at Shere Bangla National Stadium, Dhaka. Bangladesh made a clean sweep over Pakistan by 3-0 in the ODI series. Bangladesh defeated Pakistan by 79 runs in the first ODI on 17th April, by 7 wickets on 19th April in the second, and by 8 wickets on 22nd April in the last ODI.
7. England Vs New Zealand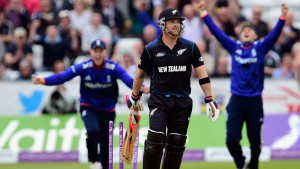 New Zealand Tour of England was also an interesting one. Here, England won the five matches ODI series along with the single T20 match. They just did what no one has expected as New Zealand was in form and their batsman were also scoring runs and playing well good enough. The first match was played on 9th June at Edgbaston, Birmingham and England won by 210 runs. But the second match was won by New Zealand by 13 runs (D/L method) on 12th June at Kennington Oval, London. New Zealand also won the third match by 3 wickets on 14th June at The Rose Bowl, Southampton and this was their last victory in the series. The last two matches were won by England, fourth ODI by 7 wickets on 17th June at Trent Bridge, Nottingham and fifth ODI by 3 wickets on 20th June at Riverside Ground, Chester-le-Street. The only T20 match that was played between the two teams was won by England by 56 runs on 23rd June at Old Trafford Manchester, making it one of the cricket upsets for Indian fans.
8. Bangladesh Vs India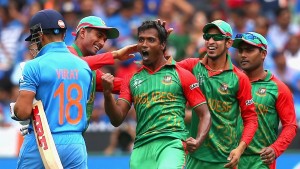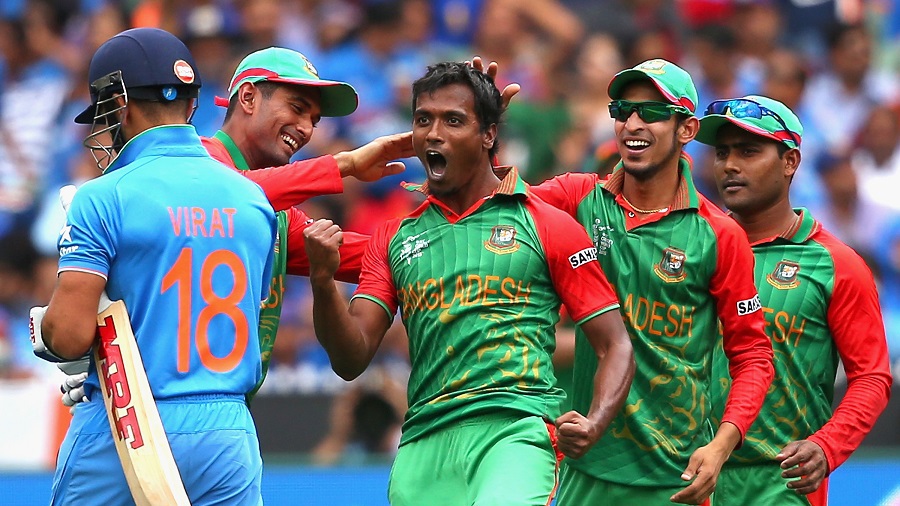 India Tour of Bangladesh what happened there was no one was expecting to happen. A match that was going pretty well, turned out to be one of the cricket upsets. Bangladesh played the first ODI on 18th June at Shere Bangla National Stadium, Dhaka and defeated India by 79 runs and gave a shock to everyone. When second ODI came, everyone was expecting India to crush Bangladesh by a huge margin of runs, but again, something happened that surprised everyone, Bangladesh again defeated India by 6 wickets (D/L method) on the same ground. But to avoid the clean sweep over the series, India defeated Bangladesh by 77 runs on the same stadium.
9. Australia Vs England (The Ashes)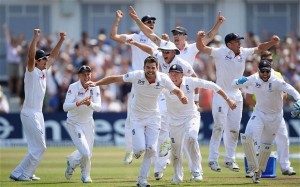 The Ashes has always been the best match to watch between these two teams. Australia lost the Ashes. The first test match was played on 8th July at Sophia Gardens, Cardiff and England won the test by 169 runs. Australia attacked the second test on 16th July at Lord's, London and won by 405 runs. England won the third test on 29th July at Edgbaston, Birmingham by 8 wickets and fourth test on 6th August at Trent Bridge, Nottingham by an innings and 78 runs. Australia won the last test on 20th August at Kennington Oval, London by an innings and 46 runs.
10. Bangladesh Vs South Africa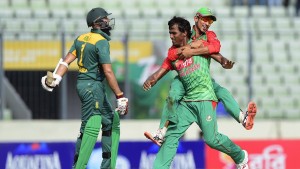 South Africa Tour of Bangladesh was the most interesting as Bangladesh had defeated Pakistan and India before and so Bangladesh was full of confidence. However, it also became one of the worse cricket upsets. Here also, Bangladesh defeated South Africa and continued the winning streak of the ODI series. Bangladesh was defeated by South Africa by 8 wickets at Shere Bangla National Stadium, Dhaka on 10th July, but Bangladesh attacked in the second ODI and defeated South Africa by 7 wickets at Shere Bangla National Stadium, Dhaka on 12th July and by 9 wickets (D/L method) at Zahur Ahmed Chowdhury Stadium, Chittagong on 15th July in the last ODI.
11. South Africa Vs India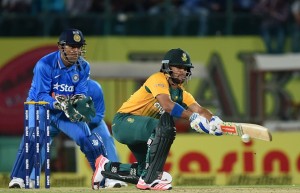 South Africa played three T20's and five ODI's against India. South Africa won the T20 by 2-0 as one match was abandoned without a ball being bowled, and ODI by 3-2.  South Africa won the first T20 by 7 wickets on 2nd October at Himachal Pradesh Cricket Association Stadium, Dharamsala and second by 6 wickets on 5th October at Barabati Stadium, Cuttack. Third T20 was abandoned on 8th October at Eden Gardens, Kolkata. After the T20's, ODI series came and there also, first ODI was won by South Africa by 5 runs on 11th October at Green Park, Kanpur. India attacked back and won the second ODI on 14th October by 22 runs at Holkar Cricket Stadium, Indore. This continued and both the teams were 2-2 and the final match was the decider one. The final match was won by South Africa by 214 runs on 25th October at Wankhede Stadium, Mumbai and took the ODI series as well along with the T20.
12. Zimbabwe Vs Bangladesh
Zimbabwe Tour of Bangladesh also witnessed the amazing performance by Bangladesh by crushing the Zimbabwe team and winning the three matches ODI series by 3-0 and Zimbabwe couldn't even won a single match. All the three ODI's were played at Shere Bangla National Stadium, Dhaka. First ODI was played on 9th November and Bangladesh won by 145 runs. Similar happened in the second ODI as well, Bangladesh won by 58 runs on 9th November and third ODO got the same result as the first two ODI's, Bangladesh won by 61 runs on 11th November.
These matches will remind us that cricket will always be the unpredictable game, as anything can happen at any moment of the match.
Image Source: Image 1 Image 2 Image 3 Image 4 Image 5 Image 6 Image 7 Image 8 Image 9 Image 10 Image 11 Image 12 Featured Image