India is the land of never-ending faith. Here people respect the ancient tradition of making substantial donations in temples. Thus, these temples of the country gather huge amounts of donations, both in cash and things, which come from millions of devotees.
Let's take a look at the top 10 richest temples in India:
1. Anantha Padmanabhaswamy Temple, Thiruvananthapuram, Kerala
Topping this list we have the most famous temple, the Padmanabhaswamy Temple in Thiruvananthapuram, this temple is also the richest temple in the entire world. The principal god of this temple is Lord Vishnu who is preserved in the "Anantha Sayanam" posture. The temple has a treasure worth nearly $ 20 billion, which made it very famous. This treasure comprised tons of gold coins and diamonds which were hidden in six huge vaults.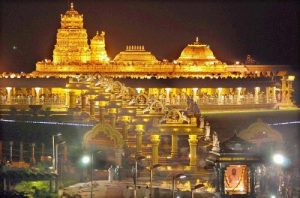 2. Tirumala Tirupati Venkateswara Swamy Temple, Tirumala, Tamil Nadu.
Next on the list is the world famous Tirupati Balaji temple situated in Andhra Pradesh. This temple has nearly 60000 devotees come here to worship daily and the temple receives donations in huge sums of money and also gold, piling up the temple's treasure is worth Rs 650 crore here.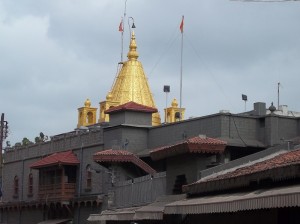 3. Shirdi Saibaba Temple, Shirdi, Maharashtra
This is one of the most famous temples and stands at number 3 in our list.The Shirdi Saibaba Temple has millions of dedicated devotees visiting the temple every year, regardless of their religion or caste. There annual donations is reaching a figure of Rs. 350 crore.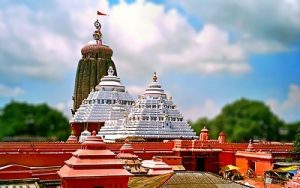 4. Puri Jagannath Temple, Puri, Orissa
Puri Jagannath Temple is among one of the most famous and ancient temples in India and also one of the richest temple. Spreads across thousands of acres of land in Puri Odisha, it is very famous for its Rath Yatra Festival Thousands of devotees attend this Yatra and during this time the temple receives a huge amount of donations. The temple's properties are worth more than a thousand crores rupees.
5. Siddhivinayak Temple, Mumbai, Maharashtra
Situated in Mumbai, Maharashtra this temple is devoted to Lord Ganesh, it is among one of the richest temples in India. Besides, huge volume of local crowds, and tourist from around the world visit the temple. Huge amount of donation is received by the temple and it holds hundred kilos of gold ornaments and fixed deposits.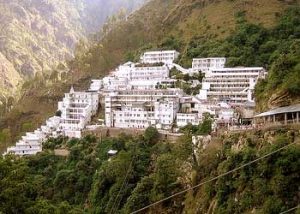 6. Vaishno Devi Temple, Katra, Jammu & Kashmir
Located at Katra, in Jammu and Kashmir. This temple is a cave and dedicated to Goddess Durga. With the outstanding annual donated by thousands of devotees amounting to a value of Rs 500 crore, this temple features next on the list. It is a very famous temple in India and attracts thousands of pilgrims from all around the world.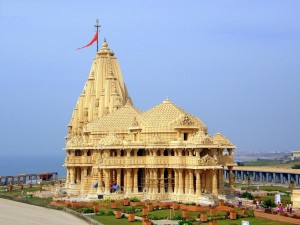 7.  Somnath Temple, Saurashtra, Gujarat.
Somnath Temple situated in Gujarat is also one of the temples that receives large donations which make it the richest in the country. This temple, one of the twelve jyotirlingas and was distracted by invaders many times, irrespectively it still stands in glory.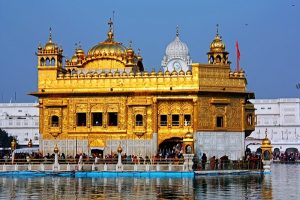 8 Golden Temple, Amritsar
The Golden Temple or Sri Harmandir Sahib, is a Gurudwara which is located in the holy city of Amritsar. This temple is embellished with gold and thousands of devotees from around the world come in every day and pay huge donations.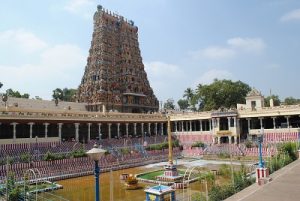 9. Meenakshi Temple, Madurai, Tamil Nadu
Meenakshi Temple is located in Madurai, Tamil Nadu. Goddess Parvati is the dedicated Idol of this temple. This temple is a perfect symbol of archaeological brilliance. This temple also has thousands of visitors everyday who pay lot of donations to the temple making it one of the richest temples in the country.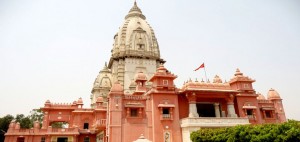 10. Kashi Vishwanath Temple, Varanasi, Uttar Pradesh
Located in the Holy city of Varanasi, Kashi Vishwanath Temple is also one of the richest temples in India. It is not only famous in India but all over the world. Dedicated to Lord Shiva, it is one of the most highly visited temples in the whole country.
All these temples are extremely popular not only for their religious worth, but also for the huge assets and treasures they have collected in the form of donations by the pilgrims.
Sources: Image 1, Image 2, Image 3, Image 4, Image 5, Image 6, Image 7 & Featured Image, Image 8, Image 9, Image 10 .