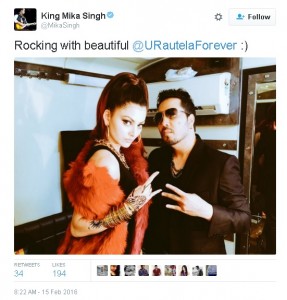 Urvashi Rautela is one of the most popular name in Bollywood and she doesn't need any introduction. There is no doubt that she has stolen the hearts of thousands of people, but who do you think rules her heart? Yes, you read that right! According to reports Miss India and Sanam Re actress is in a relationship with the very popular singer Mika Singh.

King of Controversy Reveals the news
KRK who is the number one critic on twitter himself posted this news. According to sources he said, Mika Singh and Urvashi Rautela are enjoying a good time at Mika's house, he didn't end there but further said that the couple would tie knot shortly. He also shared one picture where both Mika and Urvashi are seen giving nice poses.
However, both haven't replied to this tweet.

Mika Singh Took Urvashi on A Valentine's Day Date?
Mika Singh's Twitter post is also giving some hits which somewhat confirm what is going on. The singer wrote on Valentine's day, that 'After the Success of Sanam Re. I am Talking Miss Universe and my Sweetheart for Valentine's day.' Is this hit enough or you need more?

Urvashi Rautela Thinks Mika is a Superb Human Being
Urvashi also posted on twitter about having a great time with Mika, this post came with pictures where both were posing off with each other.
As this news has come to the most famous critic on Twitter, who is popular for posting bogus news about Bollywood most of the times. Hence we cannot trust how authentic this piece of news is. But again we are getting some hints on Mika and Urvashi's twitter post too. While we wait for Mika and Urvashi to react to KRK, we also need to wait for a confirmation from both on their relationship.
Image Sources: All Images
Meet the Author