The much anticipated Coldplay's new video 'Hymn for the Weekend' has been released featuring fashion icon, Sonam Kapoor and sensational diva, Beyonce. The video has been shot in India, and it's an explosion of exoticization!
Sonam Kapoor special appearance in Coldplay's new single!
Renowned for her designer attires and style; the Bollywood's own fashionista, Sonam has bagged her first English single with the British band. In the second single of the British Band's Coldplay's seventh album titled, 'A Head Full of Dreams'; the Bollywood actress, Sonam has made a cameo/special appearance. Beyonce has also lent her vocals to the track.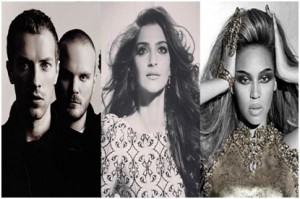 In this latest video, there are temples, holi, even more holi with lots of colors, especially pink and saffron. There are men who wore shimmering golden suits. A filmed named, Raani's poster is also shown. And, Coldplay frontman, Chris Martin is running in the lanes of Mumbai in Taxi. The pop sensation, Beyonce is shown as a Bollywood actress and Bollywood star, Sonam Kapoor also appears in two places. In the whole video, the sky is filled with something more than colors, showing a glimpse of eternal joy and happiness!
Rhea Kapoor, Sonam's sister who often styles Sonam's looks, has conceptualised Sonam's appearance for this video too. Even, she had posted a screenshot from the new video too. Sonam Kapoor is in desi look wearing ghagra choli and the traditional mang tika and also a nose ring.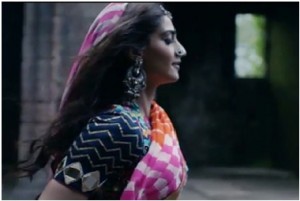 Sonam Kapoor's appearance has been spotted in two places, one at 3:36 to 3:37 and another at 3:43 to 3:44. The Bollywood star is pretty much exited with this video and she even wants to tell about this to her grandkids!
About Coldplay
Coldplay has been great at keeping secrets! The band was in India last year, but nobody was aware of that secret visit! Even, without any media reports or announcements; the entire band shot a music video in Mumbai. And, now a video with Sonam Kapoor and Beyonce, and no one had a clue! So, probably this video seems to be a compensation for their last year's secret and confidential trip.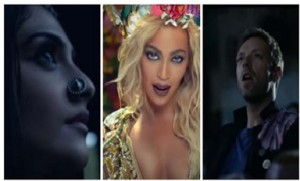 Looking at the Coldplay's past record and performance; one can definitely say that they are best in their business! They have won 62 awards throughout their career. They have sold more than 80 million records worldwide; thus making them one of the world's best-selling music artists!
Meet the Author