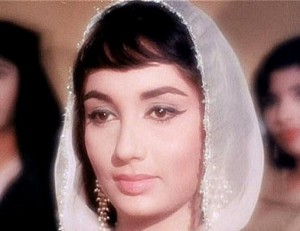 Bollywood's timeless beauty "Sadhana" today passed away at the age of 74 in her home in Mumbai. The actress was admitted to Hinduja hospital and was said to be struggling with Cancer for a long time.
Detected with a tumor the yesteryear's beauty underwent an emergency surgery for a bleeding oral lesion in December last year.
The actress who popularized her time with "Sadhana Cut" hairstyle was a rage among fashion goers.  She featured in numerous films through her career and rose to popularity with films such as 'Love In Simla', 'Parakh,' 'Hum Dono,' 'Shree 420,' 'Mere Mehboob,' 'Waqt' and 'Woh Kaun Thi'.
Here are 10 of the most popular roles where Sadhana is still remembered by movie lovers.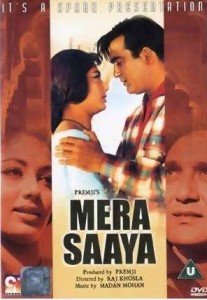 1. Mera Saaya
Mera Saya was one of the most popular movies of Sadhana. In this film, Sadhana starred opposite to then superstar Sunil Dutt. It was a thriller and suspense movie released in the year 1966 in which Sadhana was seen in a double role. Not only the movie; but its songs "Jhumka Gira Re", "Naino Mein Badara Chhaye", "Tu Jahan Jahan Chalega" became a super hit.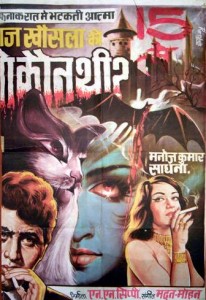 2. Woh Kaun Thi
This was yet another movie of Sadhana created by director Raj Khosala. Together, the duo had worked for three movies. This was a black and white psychological mystery film of the year 1964. Manoj Kumar had starred opposite to Sadhana in this movie. This movie also gave a famous song, "Naina Barse Rimjhim Rimjhim", which is popular even today.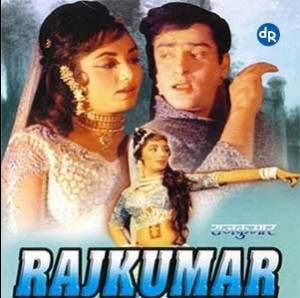 3. Rajkumar
1964 was a lucky year for Sadhana. Along with Woh Kaun Thi, Sadhana gave one more hit film in the same year, named Rajkumar. The movie starred superstar Shammi Kapoor opposite Sadhana. People remember this movie for the song, "Aaja Aai Bahar", sung by Lata Mangeshkar and "Tumne Pukara Aur Hum Chale Aaye", sung by Mohammed Rafi and Suman Kalyanpur.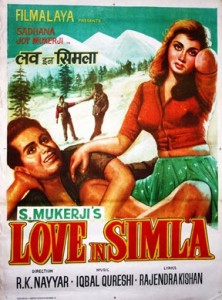 4. Love in Simla
Sadhana not only worked in thrillers and mystery movies, but in a number of romantic movies as well. Love in Simla was a romantic movie released in 1960, with Sadhana and Joy Mukherjee in the lead roles. This movie was extremely special for our leading lady, as this was Sadhana's debut film. In fact, this was the film which made Sadhana a superstar of her era.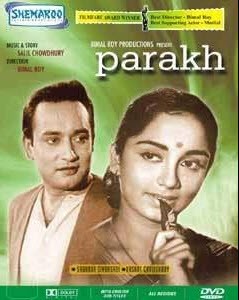 5. Parakh
After Love in Simla, Sadhana's journey started towards success. In the same year, she starred in Parakh, which was directed and produced by famous director Bimal Roy. Bimal Roy even received a Fimlare Best Director Award for this movie. Though not a glamorous role, Sadhana's character still reminds of her simple beauty.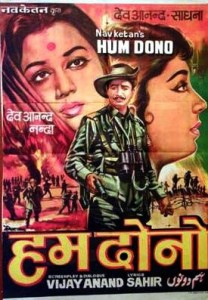 6. Hum Dono
Hum Dono is the super hit film of the year 1961. This film has best of the stars of 60's era; i.e. Dev Anand, Nanda, and of course Sadhana. Dev Anand was seen in a double role in the movie. The movie is filled with several super-duper popular songs such as "Abhi Na Jao Chhodkar" sung by Mohammed Rafi and Asha Bhosle, "Main Zindagi Ka Saath" by Mohammed Rafi and "Allah Tero Naam Ishwar Tero Naam" by Lata Mangeshkar.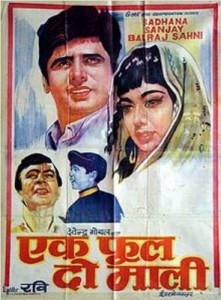 7. Ek Phool Do Mali
Yet another box office hit given by Sadhana. Sadhana was one of the few actresses who got a chance to work in woman-centric movies. And she did full justice to all her roles. Ek Phool Do Mali was one of such movies where Sadhana's performance was admired. The movie was released in the year 1969.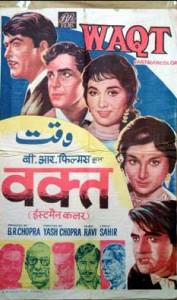 8. Waqt
Waqt is a 1965 multistarrer film, directed by none other than famous director Yash Chopra. This was in fact the very first film that has multiple stars and soon the trend of multi-star cast was set. Sadhana shared the silver screen with several other top-notch actors of 60's era, including, Sunil Dutt, Raaj Kumar, Shashi Kapoor, Balraj Sahni, Madan Puri, Sharmila Tagore, Achala Sachdev and Rehman. This film too has several popular songs such as "Waqt se din aur raat" sung by Mohammed Rafi, "Aage Bhi Jaane Na Tu" by Asha Bhosle, and the very famous "Aye Meri Zohra Jabeen", sung by Manna Dey.
9. Shree 420
The movie is known for the famous pair of Raj Kapoor and Nargis. However, very few know that Sadhana too has acted in this movie. In this 1955 movie, she played a chorus girl in the popular song "Mur mur ke na Dekh murmur ke". She was only 15 years old then. Ideally, this should be called the debut movie of Sadhana; but she became a star only after Love in Simla.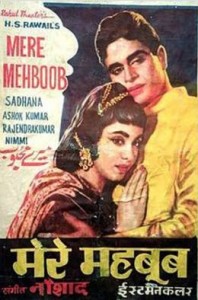 10. Mere Mehboob
Sadhana's filmy journey was full of firsts. Mere Mehboob was Sadhana's first color film. It was a blockbuster movie of 1963. The movie also starred Ranjedra Kumar in the lead role and Nimmi and Ashok Kumar in supporting roles.
Sadhan's sad demise has brought back a lot of her memories and reminded us of her memorable films. May her soul rest in peace.
Image Source: Image 1, Image 2-11,  Featured image
Meet the Author