Amazon on 4th February rolled out three major updates to Amazon Echo, an artificially intelligent speaker, making it a fantastic tool. So, you can now order a Domino's pizza, hail an Uber and even stream music from Spotify and these all can be done by yelling commands at Amazon Echo!
Watch out for all new Amazon Echo!
When Amazon Echo was first launched in November, 2014, its purpose was not entirely clear. At that time, it was often called as 'weird!' But, when Amazon opened up for Alexa, the personal assistant powering Echo, which lets any developer integrate his product with the platform, Echo got something to cheer about. And, now with these three major updates, Amazon Echo has certainly grown up!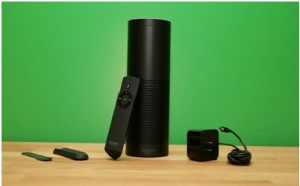 What is Amazon Echo?
Amazon Echo is a wireless speaker and a voice command device from Amazon.com. The device consists of a 9.25-inch tall cylinder speaker, with a 7-piece microphone array. The device responds to the name 'Alexa', the personal assistant which powers it.
What Echo is capable of?
The device is capable of voice interaction, music playback, streaming podcasts, playing audiobooks, making to-do lists, setting alarms, and providing traffic, weather and other real time information. At the same time, it can also control several smart devices.
A flurry of big-name integrations!
Amazon Echo is a full-fledged platform, and is rolled out with three major updates. These updates includes ordering a pizza from Dominos, streaming music from Spotify and lastly, summoning an Uber!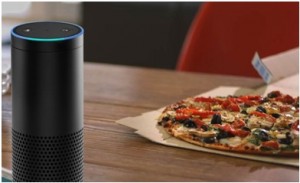 Domino's pizza!
Hungry customers can now ask the Echo either to repeat from their most recent orders, or else order from a pre-loaded 'Easy Order'. Besides adding ordering capabilities to Echo, Dominos will also provide its pizza-tracker facility!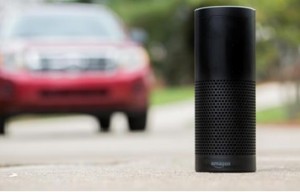 Uber service!
The power of Alexa as a platform can be understood from the last partnership with Uber! Now, one can summon Uber with the help of Echo, thus, bridging a very significant gap by bringing the outside world to their home!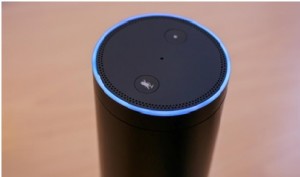 Stream music from Spotify!
The addition of Spotify to Echo makes it more convenient for the Swedish streamer's 20+ million paid users. Spotify is also the most popular and direct competitor to Amazon's Prime Music unlimited streaming service!
Amazon Echo's review!
Amazon lists more than 31,500 reviews for Amazon Echo. In this, two-thirds have rated it five stars, and just 6% rated it either one or two stars. So, people generally seem to either love it or else are frustrated by its limitations!
Meet the Author