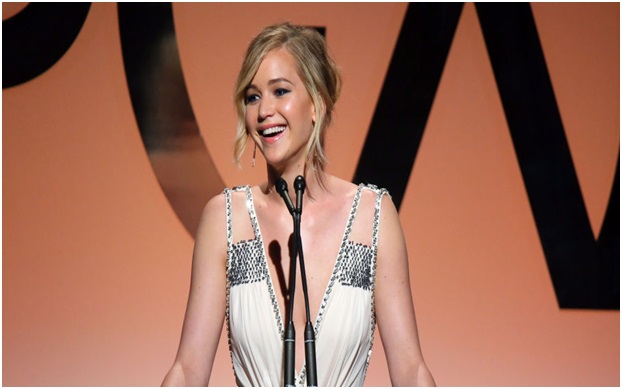 According to the latest ranking issued from Forbes, the Hunger Games actress, Jennifer Lawrence is again ranked the world's highest-paid actress for the second consecutive year. The multi-talented star has earned $46 million over the past year. Here is a list of 5 highest paid actresses:
Jennifer Lawrence ranked World No. 1 again!
1. Jennifer Lawrence!
Although the overall earnings of the star actress of the 'Hunger Games' franchise mark an 11.5% drop from her 2015 total; however she has still retained the #1 spot, and emerged as the highest paid actress of 2016. Over 12 months, the star actress has earned over $46 million before taxes. According to Forbes, this earning includes a big upfront fee for her forthcoming sci-fi drama 'Passengers'.
2. Melissa McCarthy!
The runner-up spot for the highest paid actress for 2016 is being claimed by the beautiful star, Melissa McCarthy. She notched a very big gain in order to claim this spot, according to Forbes. She has earned $33 million, including her payday for reboot of 'Ghostbusters!'
3. Scarlett Johansson!
The star actress of the 'Captain America: Civil War' notched the third place. While her earnings have gone down by nearly 30% in 2016 as compared to 2015; still the actress has managed to earn $25 million, claiming the #3 spot.
4. Jennifer Aniston!
'The most beautiful woman', according to People magazine has now earned a #4 spot in the highest paid actress for 2016. The star actress has earned around $21 million.
5. Fan Bingbing!
Considered as the fashion icon of China, Fan Bingbing has claimed the #5 spot in the highest paid actress list. She has earned $17 million to claim this spot, according to Forbes.
Though these star actresses have earned very high; but no one came close to the pop star, Taylor Swift! Earlier this year, Taylor was named as the top earning celebrity of 2016. She had estimated earnings of around $170 million from her record sales and world tour.
The total earnings of the star actresses cover from 1st June, 2015 to 1st June, 2016, before management fees and taxes.
Image Source: Image1, Image2, Image3, Image4, Image5, Featured