Bangalore is also called as Silicon Valley of India. The software production in Bangalore is comparable to the best in the world. Almost all good software IT Company has its offices in Bangalore city. The industrial areas of Bangalore, Global village, Electronic city and ITPL are IT Hubs of Bangalore. This revolution in Bangalore has changed the life of the people. Now people here earn more and spend more thereby creating a flow of money which you can't see in other parts of India.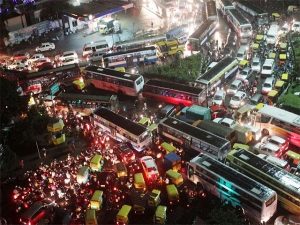 Don't drive your own car
Bangalore's traffic is legendary. It is much better to use public transport than driving in the city due to the high traffic in almost all parts of the city. Areas like Silk Board, KR Puram, Hebbel& Corporation circle are few of the most chaotic traffic points which one cannot avoid any time of the day. At peak hours, bottlenecks develop, especially at places where bridge/road construction is going on, and it takes almost 30 minutes to travel 3-4 kilometers. If it is raining for a couple of hours, kilometres long traffic jams are rampant. It is, of course, made worse by people driving skills where they change lanes recklessly and going wherever they find even an inch of space.
In Bangalore, wrong parking occurs due to lack of parking areas within city and it takes almost half an hour to find parking space in the peak business district comprising Majestic, ITPL, Residency Road, MG Road, Brigade Road, Kamaraj Road and Commercial Street.

Don't bargain with Auto drivers
Auto drivers are people from some other planet. Don't dare to bargain with them, so if you are in hurry just board (if they allow you to) and pay whatever they ask or be ready for a fight.
Going by the meter is unheard of and I you may also have instances where the auto driver agreed to drop you at a particular place and then drop you somewhere just because of traffic on the way. If it starts raining, auto drivers are king of the road and charges 4 or 5 times of actual fare.

Don't plan late night party
Bangalore has large number of young crowd, but the pubs in Bangalore close at 11.30 P.M. So it's better to plan a party at home.  There are hardly any places that stay open past 11 or 11.30 pm even on weekends. Only top hotels will probably have a 24 hour cafe open which will serve some odd food items.
Bangalore being a beautiful place, best known for its lovely weather and IT Hubs fails when it comes to traffic. The traffic is so dreaded that it makes people wish for wings so that they could fly over long traffic jams. Believe these traffic jams are a contribution by every individual in the city who is on the road with their vehicles, be it the BMTC Buses who never follow the bus bay and stop anywhere they wish too, or people with cars and bikes who are always in a hurry.
So when you are in Bangalore, it would be very safe and obvious that you too become a victim of such traffic jams. So Beware!!!
Image sources: Image1, Image2, Image3, Featured Image.