Reading books is now-a-days vanishing from our lives; thanks to computers, tabs and videos games. Kids are finding less interesting to read books, when compared to playing games on their tabs or PCs. If you want to encourage your kids to read more; you have to create an attraction for them. And no other thing is as attractive as Kindle. Now your kids will be more inclined towards reading books, when you will gift them the Kindle for Kids Bundle.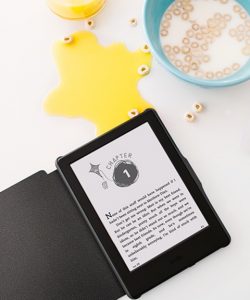 Kindle for Kids Bundle Deals on Amazon
Thanks to Amazon's deals, you won't have to burn a hole in your pocket to get Kindle for your kid. The Kindle for Kids Bundle comes at only $99.99. The original price of Kindle for Kids is $124.98; that means you get a whopping discount of $24.99 (20%) for this bundle. What more, the Kindle for Kids Bundle comes with 2-year warranty, thus you can be worry free for 2 long years, even if your child does not remain careful with the Kindle. Even if they break it; you can return it and the Kindle will be replaced for free!
Here are some more attractive features that come with Kindle for Kids Bundle:
Kindle for Kids Bundle comes with kid-friendly cover.
The cover comes in 5 different attractive colors; including Green, Blue, Black, Pink and Purple that every girl and boy will love it.
The Kindle comes without sponsored screensavers, a much needed feature when kids are reading the books.
You can even set reading goals for your children and also keep a track of progress with Kindle FreeTime. Kindle FreeTime also blocks access to browsing and purchasing in the Kindle Store, access to the Internet, access to Wikipedia, and disables social sharing.
The Kindle for Kids Bundle comes with tools like Word Wise and Vocabulary Builder that improve vocabulary of your kids.
Guess what, Kindle doesn't come with a backlight. This clearly defines the bedtime for your kids.
The kindle is thinner and lighter; easy for the little kids to handle it.
Choose age-approved content from more than 250,000 children's titles
It has a better battery life. A single battery charge lasts for weeks, so you can forget the charger at home.
And last, but not the least – The magnet in the cover ensures cover is securely closed, while the durable polyurethane exterior protects your Kindle from scratches.
So, what are waiting for? Go grab a Kindle for Kids Bundle for your little bundle of joy. You can buy it from here.