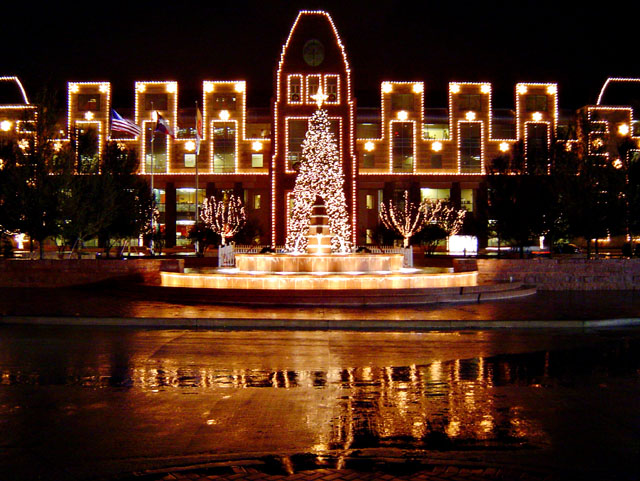 Put on your hat and gloves, fill that thermos with cocoa and pack some cookies. It's time to take in all things twinkly. We've rounded up some top area light displays to help you plan a perfectly merry and bright outing. For the neighborhood displays, note that it's very early in the season and things might get sparklier as Christmas draws near.
Deerfield
This Plano neighborhood display is traditionally one of Collin County's biggest, with merry penguins, glittering gift boxes and plenty of Santas. Times that lights will usually be on are Dec. 1-30 from 7 to 11 p.m. The neighborhood covers a large area north of Legacy Drive between Preston and Coit roads.
Highland Park
The mansions themselves are sights to behold. In the vicinity of Armstrong Parkway and Preston Road, sprawling homes stand majestically on endless lawns (there's also a particularly awesome big pecan tree there that's covered in lights). Expect them to be glittering for the holidays with classic light decorations.
Interlochen
The Griswold Award is just one of the prizes handed out to residents of this Arlington neighborhood, which has gained legendary status for its lights and decorations. More than 200 homes usually participate.
Texas Motor Speedway Gift of Lights
The attraction features 2 million LED lights in 600 holiday displays that you can drive through at Texas Motor Speedway. There's a new Santa's Village for photos, refreshments and more.
Lone Star Christmas
The "Ice!" exhibit features 2 million pounds of the cold stuff carved into festive holiday scenes at the Gaylord Texan as part of the hotel's Lone Star Christmas celebration, which runs through Jan. 1.
Holiday in the Park
See millions of twinkling lights wrapped around trees and along rooftops, take a slide down the snow-sledding hill, warm yourself by fire pits, decorate holiday cookies and enter Santa's Workshop, where you can meet Santa, Mrs. Claus and elves.