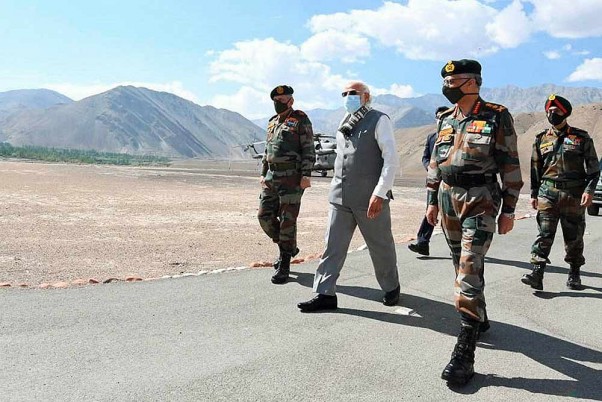 The entire country felt agitated to learn that the increasingly aggressive and boorish China had made unauthorized intrusions into our side of the line of actual control (LAC) all through May 2020. The country was jolted when no-holds-barred fisticuffs with the Chinese troops resulted in 20 of our brave soldiers were martyred fighting to safeguard the sovereignty.  Outrage so ensued across the country was instant and the citizens rightly demanded retaliation against the intruding aggressors.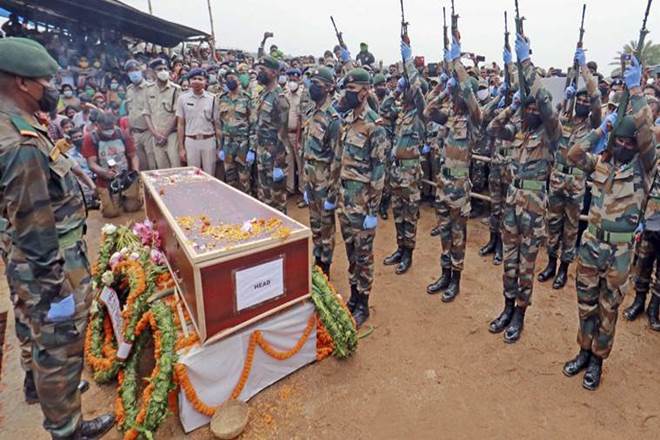 PC: financial express
As it has become perfunctory by now, the opposition parties were all over the media platforms accusing the Government of acquiescing to the Chinese by looking another way when the dragon nation surreptitiously kept making advances along the LAC. Wild allegations of accepting donations/funds from the Chinese companies started making rounds pointing fingers at the ruling dispensation as well as the opposition.  Media platforms had a copious amount of juicy issues to dissect, debate, and disseminate.
As the opposition parties kept mounting pressure on the Central Government even after the later clarified in no uncertain terms that there was no illegal occupation of the land during the all-party meeting convened to share the Galway valley incident, the former were relentless in their attack for failing to respond appropriately and befittingly. Despite assurances from the Highest Office of the country that not even an inch is occupied illegally, personal attacks aimed at the Prime Minister never ceased.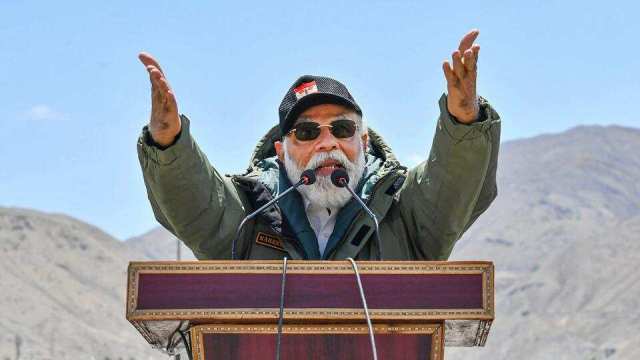 PC: Telegraph India
Of course, all political leaders cutting across party affiliations were unequivocal in not only lauding the bravery of our proud soldiers but also profusely praising the military for displaying tremendous courage while guarding the motherland against enemy misadventures. As is its won't, urge to pin-down the Government in matters concerning safety and security of the nation overrode all other considerations and hence vitriolic attacks bordering on personal vilifications too ensued.
The masterful strategist that he is, aided by natural possession of an inherent sense of occasion, combined with instinctive ability to rise to the challenges characterizes our Prime Minister's unique persona. The nation is witness to such admirable traits coming to the fore time and again.  In an unannounced surprise move, the Prime Minister visited the forward areas of Ladakh to interact with the troops positioned over there.  I am sure the entire troops would have felt galvanized by the visit with the knowledge that no less than the PM himself stands by them.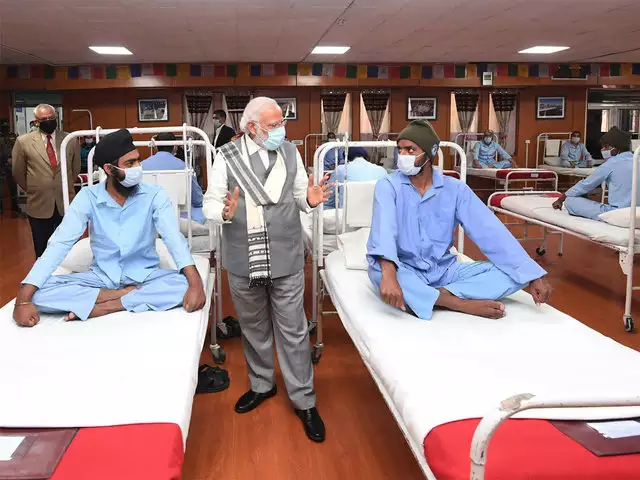 PC: economic times
Trust me, precisely such moves enthuse the forces no end and will not hesitate one bit to lay down lives for the noblest of causes i.e. protecting the motherland. Also, interacting with the wounded soldiers would have conveyed a reassuring message to the soldiers that the entire nation cares for them.  Optics are extremely important and hence are delivered appropriately in the instant case.  Hopefully, all cynics and perennial doubters' questions would have been answered.