Goa is the smallest state of India by area. It is very famous for beaches, churches and its architecture.Goa is a place for everyone; from children to old people. However, it is famous amongst youngsters as a cool place to hang-out and for newly married couples as their honeymoon destination. It is visited by millions of international and domestic tourists each year. It has hot and humid climate most of the year; but the best time to visit Goa is monsoon, which arrives in June remains till September.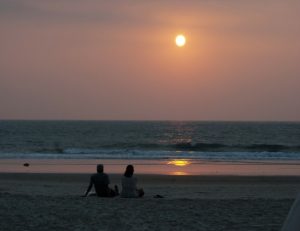 Here is a list of places to visit in Goa.
1) Mandrem Beach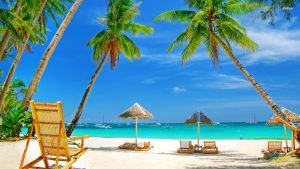 This beach is located in north Goa and is famous for its natural beauty. The entrance to this beach has small tracks coming down through trees and stairs reaching the clean and silent beach. In comparison to all other beaches, it is less crowded. This beach is an ideal place for honeymooners. It's a very clean, quiet and peaceful beach. Visitors can sit and relax on the loungers and absorb the serenity of the sea.
2) Baga Beach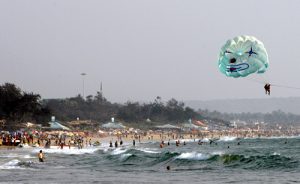 Baga beach is one of the most popular beaches in Goa. It's known for beach parties, nightlife and tasty seafood at hotels and restaurants. It is also famous for water sports and dolphin cruises. On this beach, National Wind Surfing Championship is also conducted every year between September and November.
Goa has very few churches; but this church is one of the largest churches in Asia and the largest in India. It took around 80 years to build this church. The best thing about this is that it has a "golden bell" with a large tone which can be heard by all the people in Goa.
4) Chapora Fort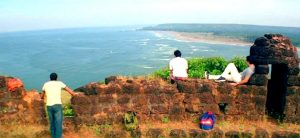 Chapora fort is located above the river Chapora. It's a place with three sided sea view and amazing sunset. On its left side there is Vagator beach and right side there is Chapora beach. The place is the best to sit, relax, unwind and feel the calmness of the area. It has the best scenic beauty across Goa. The fort was also shown in the Bollywood movie Dil Chahta Hai staring Indian actor Aamir khan.
Goa is by far the coolest place to visit once in your lifetime and spending a week in Goa will make you feel good after a long hectic day of yours.  This place is so good that it will help you forget everything if you really enjoy every bit of Goa.