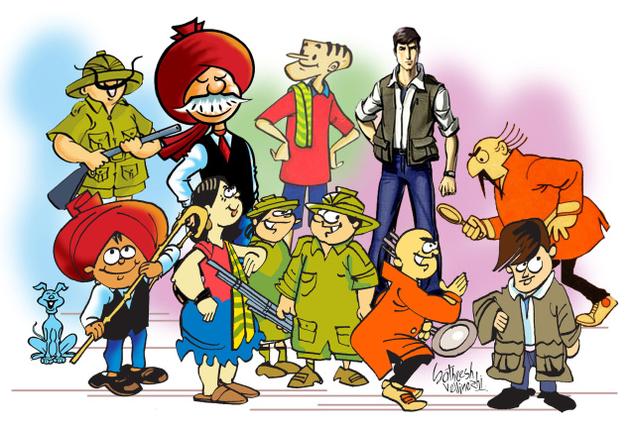 Most of your childhood has spent reading comic book. There are set of Indian comic characters who have entertained you for ages. Though they are not famous globally, but the names are enough to get a smile on your face.
Below is the list of the top 10 characters from Indian comics: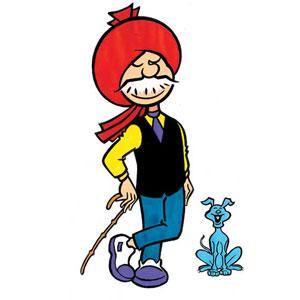 1. Chacha Chaudhary
Chacha Chaudhary is the most popular Indian comic character created by cartoonist Pran. The character was debuted in the year 1971 and became one of the most known Indian comic characters among kids. In each comic series it was said Chacha Chaudhary is a person whose mind "works faster than a computer". The comic has sold near about 10 million copies appeared in 10 Indian languages including English.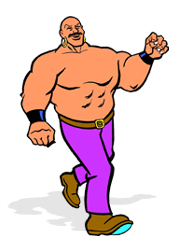 2. Sabu
Sabu is a supporting comic character in Chacha Chaudhary comics. He is an alien from Jupiter planet who decided to stay on earth with chacha after tasting delicious food provided by Chachi. He is always faithful to Chacha and use to provide him physical strength when needed. After Chacha, Sabu is the famous Indian comic character among kids because of his strong body and intelligence.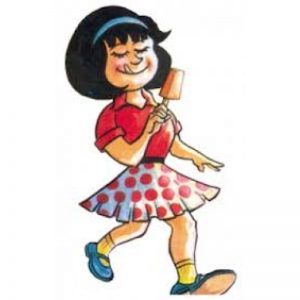 3. Pinki
Pinki is a 5 year fortuitous female kid of the famous comics' house, Diamond. Likewise Chacha Chaudhary, Pinki character is also created by Pran in 1978. The character is inspired from Dennis the Menace, an American comic character who is troublesome for her neighbors. Pinki also creates a lot of trouble for people who stay around her. Pinki has also appeared in comic series like Billoo and Chacha Chaudhary.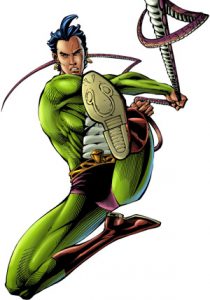 4. Nagraj
Created in 1980s by Raj Comics (Cartoonist: Sanjay Gupta). Perhaps Nagraj is said to be the longest running action Indian comic superhero. In 25 years of the comic series, Nagraj has changed a lot in terms of looks and stories. Nagraj's is made to end crime and finish terror from the world. Despite this, in his normal life he is a working in a news channel which was secretly owned by him. He is one of the ideal comic characters of the Indian comic industry.

5. Super Commando Dhruv
Super Commando Dhruv is published by Raj Comics who is a fictional character, an Indian comic book superhero. Dhruv character is created in April 1987 by writer and illustrator Anupam Sinha. The complete name of Super Commando Dhruv is Dhruva Mehra. In the cadets of his Commando Force, he is also known as Captain Dhruva. Commando Dhruv carries few blades, signal flares and some acid capsules. He beats the bad guys using these instruments.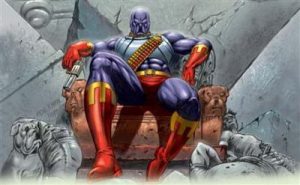 6. Doga
Doga fictional character is created in 1992 by Tarun Kumar Wahi, Sanjay Gupta, Manu and published under Raj Comics. Doga is first and only negative character in Raj Comics. Doga is counted amongst most popular comics leading comic characters like Nagraj and Super Commando Dhruva. Doga character is based in Mumbai, where he shows his cruelty in the city.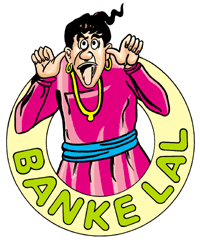 7. Bankelal
Bakelal is also Raj Comics production and considered one of the most famous and funniest Indian comic book characters. Bankelal first comic book series was 'Bankelal ka Kamaal'. The series was all about God and Demons with different world's funny characters. To get rid of his king, he uses to make evil plans which always use to fail.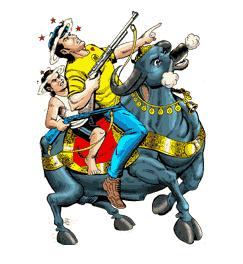 8. Gamraj
Gamraj is another production of Raj Comics but does not have any supernatural powers of his own. He is the son of Yamraj who is a considered to be a god of death in Hindu Mythology. Gamraj requested his father to stay on earth and help the people. Yamraj permitted him, but also sent Yamuna (Yamraj's buffalo) with his son so he has some special power with him.

9. Bhokal
Bhokal, real name Rajkumar Alop is one of the most famous Indian comic characters. He was first seen in a seven comic series with his friends Shootan, Atikrur and the person whom he loves Tureen. He was on a private mission on earth as an angel. Kids who believed in fairy tale romances were amongst the biggest fan of Bhokal. He is said to be the most ladies lover man in the comic industry.
10. Angara
Ankara is a story of a man made from animal body parts. His body is bullet proof because it is as a Rhino's skin. Also, he is considered to be most intelligent as his brain is of a fox. He is born to save animals and said to be a savior of wildlife. Angara is interesting to read and its a production of Tulsi Comics.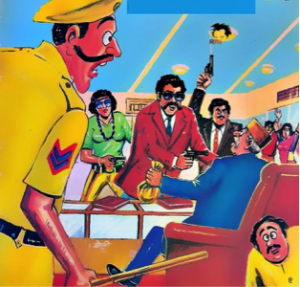 11. Hawaldar Bahadur
In the comic book history Hawaldar Bahadur is the most crude police forces in the comic book. He has catched robbers, and mad scientists very easily. His comics is full of funny name and vulgar dialogues but at the end they have managed to make us laugh.
These Indian comic characters are a set of desi heroes whom you loved since your childhood and who will stay with you forever.
Image Source– Bing.com