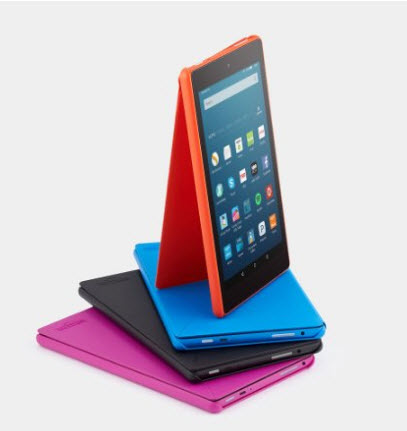 Here is a review of the Fire HD, the affordable tablet from Amazon.
The updated Fire HD 8 has a different design from its predecessor, which had a black bezel and glossy black back panel. The new tablet again has an 8in screen with black surrounding bezels.
Fire HD 8 dimensions
The dimensions stands at 214 mm x 128 mm x 9.2 mm, and while it does not look that very premium, it is still stylish in its own sense. The front of the device doesn't have buttons, all of which are reserved for its top edge. It needs only three; a lock/power button on the top right next to the micro-USB port and microphone, and a volume rocker on the top left next to the headphone jack.
Fire HD 8 Camera
On the rear there is a 2Mp camera, while the front is a very low-res VGA lens for video calling and selfies.

There is a micro-SD card slot on the top right edge of the Fire HD 8 that supports up to an additional 200GB of storage, excellent to see on such an affordable device. The two speakers, one at the top and one at the bottom edge of the left edge as you hold it portrait give away the preferable landscape orientation that Amazon has in mind. It starts to give away the fact Amazon is expecting you to watch Amazon Prime videos on the Fire HD 8.
How about Fire HD 8 Screen
A device called the Fire HD 8 obviously has an HD screen, with a resolution of 1280 x 800 and 189ppi. Also promised is HD video playback, which thankfully holds true and looks excellent. Although video playback is HD, text and icons display slightly pixelated. This does not detract from readability, but Fire HD 8 reserves its best display capabilities for HD content direct from Amazon Prime. In our use, even streaming videos from YouTube were normally slightly grainy compared to our experience on more high-end tablets.
You can buy the new, updated Fire HD 8 direct from Amazon. It is a great value for the specifications that it is offering, starting at £89.99 with 16GB of storage, double the previous generation.
Click here to buy it.