The North Eastern region of India remains an abstruse destination for many Indians. They carry different tribes and lifestyle. As their culture, their food and dishes are also unique. Most of the dishes are non-vegetarian, but light and finger licking.
Here are 10 unusual dishes from the North East India that you should try on your visit: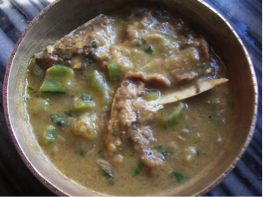 1.Khar
Khar is a traditional Assamese meal. It is made up of dried banana skin and raw papaya. This is a simple and humble dish eaten a in region of Assam mostly during lunch time. Their traditions always begin with khar and some rice. It is also said that khar cleanses the stomach.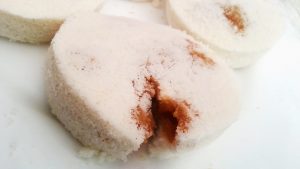 2. Pitha
Pitha is most popular snacks/sweet of Assam. It is usually eaten for breakfast or snacks. It is made up of rice and cane be sweet or salty in taste. Sweet Pithas are chosen more over salty one. They serve this delicious snack with Dahi.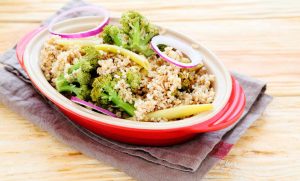 3. Sanpiau
Sanpaiu is the most well-liked street food in Mizoram. Most all snacks of Mizoram are prepared from rice. Sanpiau is also prepared from rice porridge and served with coriander paste and some spring onions.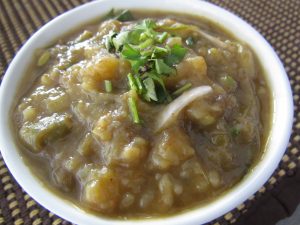 4. Iromba
Iromba is a trade mark dish of Manipur. This dish is prepared with fermented fish and served with rice. Other added ingredients are mashed potatoes, fresh green leaves and blazing red chilies. All Manipur dishes are said to have a strong and pungent taste with is followed in Iromba as well.
5. Jadoh
Jodah is the real taste of Khasi cuisine. It is prepared with pork and rice. Added ingredients are onions, ginger paste, turmeric and black pepper. It is served with tungtap (Fish chutney) or dry dish paste. Jadoh is the most popular ceremony dish of Meghalaya.
6. Thukpa
It is most popular Tibetan dish which is now found in all over Sikkim as 'Gyathuk'. Thukpa is a noodle based soup, made up of meat (or without meat), fried chopped onions, garlic and chilies. It is mostly preferred in rainy and winter season.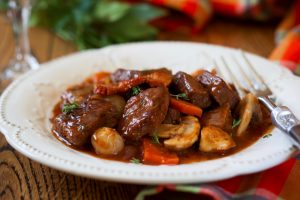 7. Smoked Pork
Pork and Nagaland go hand in hand. Nagaland is famous for their smoked pork dish. The traditional smoked pork is very crispy and juicy from inside. It is tossed with their local flavors or prepared into a curry. It tastes awesome when cooked using Bamboo shoot. They do not use too many spices to make smoked pork. This dish goes well with rice and boil veggies on the side.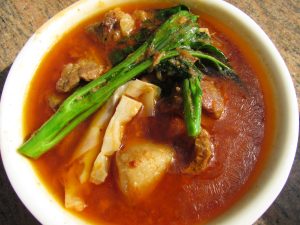 8. Chikvi
This dish is found in the state of Tripura. It is made up with stir fried chopped Bamboo shoots and sliced pork. Other ingredients added are jack fruit seed soaked, green papaya, green chilies, ginger paste, turmeric powder, rice flour paste and fresh lime leaves. Chikvi has a perfect balance of smokiness.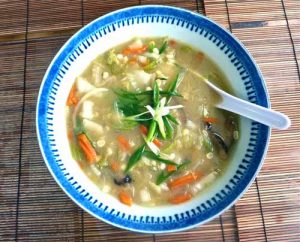 9. Zan
Zan is an appetizer from Arunanchal Pradesh. It is prepared from millet flour and boiling water using meat and green vegetables.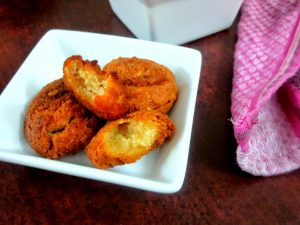 10. Pukhlein
Pukhlein is a meghalayan sweet dish made with rice and jiggery. Jaggery syrup, rice flour and oil are used to make Pukhlein. Mostly eaten at lunch time after the main course.
North East people survive on a lot of meat and simple vegetables. There is less use of spices, but yet the food is delicious. Don't forget to try these dishes on your visit of North East.
Images Source:
Image 1, Image 2, Image 3, Image 4, Image 5, Image 6, Image 7, Image 8, Image 9, Image 10