Daman is a gorgeous getaway with golden beaches, dense palm-groves and historical monuments. Known for its beaches and exotic liquors, this place is one of the best places to visit for relaxation and rejuvenation. The city is about rich historic past. Everything in Daman creates paradise for one in search of tranquility. The forts and churches of the past and the pubs of today combine to engender a strange ambience of nostalgia and delight. Here are 7 unknown facts about Daman.
Somnath Temple: An old Shiva temple situated in the midst of the Industrial estate in Daman city. It is said a Shivalinga miraculously appeared at this spot after many prayers by a monk who was a devotee of Lord Shiva. This is one of the unknown facts about Daman that this shrine of Lord Shiva was built in the year 1974.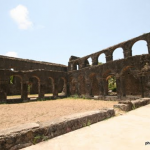 Dominican Monastery: The place reminds about history of Portuguese architecture in time of 16th century. Today, there is only a ruined skeletal structure. Now we can only see some tall walls and a crumbling structure here. The board outside states that this was a college for priestly studies and had worldwide recognition.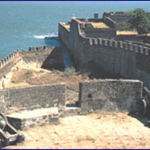 Daman's History: This is yet another of the unknown facts about Daman. Daman was captured by foreign invaders in 1531 and formally took over in 1539. Portuguese took over Diu in 1535 by taking advantage of cold war between king and Mughal Emperor Humayu. Daman and Diu were fully under control of Portuguese in 1531 till 1961. Goa achieved its independence from the colonial rule of the Portuguese in 1961. Later it got separated from Goa in 1987 and became Union Territory.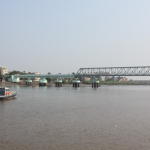 Daman Ganga: The River Daman Ganga starts from Western Ghats and flows into the Arabian Sea. What people don't know is that it is the most polluted river in India. The pollution of the river is due to different dye factories situated in Vapi which have made dirty waters flow instead of river water, and also killing the livestock and cattles.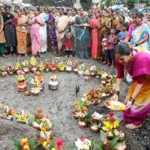 Nariyal Poornima: Though this is not one of the unknown facts about Daman, but it is an important festival for the city. This festival is a mixture of various colorful water sports activities, organized at the creek between Moti and Nani Daman and cultural activities in the month of August. It is celebrated at the end of monsoon season and beginning of the fishing season. During this festival fishermen paints their boats, prepare coconut offerings and enjoy the festival. The locals visit the seashore to offer Nariyal, coconut to the Gods of wind and water, strengthening their belief in nature.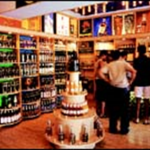 Facility of Liquor: A large number of tourists come to Daman who are not interested in sight-seeing. They go to Daman for alcohol. Mostly they come from Gujarat which is a dry state and it's illegal to drink alcohol there without a licence. Daman is the best place for them as it has no excise And you can get liquor at very cheap rates and you can bargain prices too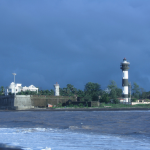 Light House: It is situated in the premises of a Fort which was built during the Portuguese era. It is fully functional and provides guidance to all kinds of outbound and inbound sea traffic. The lighthouse is a serene place to visit, especially during the evening when the fort and the sea provide an amazing landscape, thus enhancing its beauty.
These were some of the known and unknown facts about Daman. These facts only make this place a tourist's attraction!
Image Source :  Somnath, Dominician Monastery, Daman History,Daman Ganga,Nariyal Poornima, Facility of Liquor, Light House