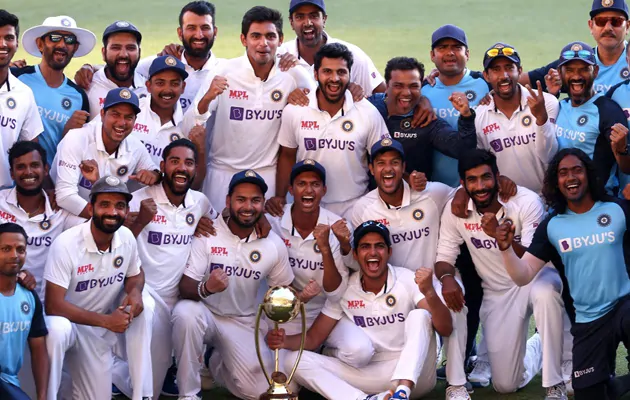 No sooner it was revealed that the talismanic skipper Virat Kohli would be leaving the shores of Australia after the first test in Adelaide on paternity leave to witness the birth of his first child, several cricket pundits, and former players were unanimous in declaring that the Indian team would be whitewashed 4-0 standing no chance whatsoever to take on the might of the Aussies. As it turned out, the Indian team was annihilated whilst getting skittled out for a paltry 36 runs in the second innings not only embarrassing the pride of the outfit but also deflating the confidence profoundly leaving the management with a huge task to prep the players for later battles.
PC: Team Latestly
As if losing the reassuring presence of Kohli was not enough, a slew of injuries to key players kept occurring alarmingly as the series progressed. It is interesting to note how one impactful performance would lift the battered morale of the team triggering an unbelievable turnaround. Hard to comprehend as also defying accepted logic surrounding the game. An outstanding inning of 112 by stand-in skipper Ajinkya Rahane in Melbourne did the trick to win the Test and there was no looking back since then even though adversities mounted unabated in the form of key players picking up injuries, facing sledding, racial abuses, and of course, the relative inexperience of debutants.
Defeating the Aussies in Melbourne was no less than a fairytale unfolding of events leaving behind a surfeit of surreal experiences hard to define nonetheless extremely welcoming for the die-hard Indian cricket fans who were treated to some exhilarating performances since then. The Sydney Test went to the wire as the Indian team battled it out courtesy of gutsy rearguard action from the unheralded batsmanship of Hanuma Vihari and Ravichandran Ashwin battling injuries resulting in a draw. The prodigal talent of Rishabh Pant too was on display for showcasing tremendous abilities with the bat. Bowlers too, though rookies, like Mohammad Siraj, and Shardul Thakur, and Washington Sundar rose to the challenges admirably.
PC: Sahil Bakshi
Cricket is a team sport and every single player is expected to chip in to present a collective effort is stating the obvious. This came to the fore in the decider at the Gabba, Brisbane when young, fearless, and supremely confident but courageous lot rose to the occasion to script a historic win. Cricket lovers would have often heard the saying about cricket being a game of glorious uncertainties and the notion was proved yet again when the unheralded Indian cricket team defeated the famed Aussies in their den repeating the feat achieved previously to retain the Border-Gavaskar Trophy with a 2-1 win.
What this win also proves unambiguously is the Indian Team henceforth will no longer be treated as poor travelers outside of subcontinental conditions as a back-to-back series win in Australia, considered as the toughest place to compete, will rest any such insinuations and/or arguments for good. Due credit to cool and composed stand-in skipper Rahane for marshaling the precocious resources stupendously. Kudos to the coaching staff led by the doughty Ravi Shastri for instilling a never-say-die approach, courage, and belief into the New India that he so proudly mentions. Proud of Team India! Looking forward to a triumphant reign from now on