Guess what is the nicest thing about visiting San Francisco? Well I feel this city is too BIG when it comes to attractions and amenities, but geographically it is actually very small. Yes, its just 49 square miles. So logically it is going to be a dead easy job to see and do many great things in a very short span of time. Well that's when you plan to visit the top attractions of this city, like the Golden Gate Bridge, a ride on the Cable Cars and see the sea lions. But today I will be discussing the hidden San Francisco with you guys. Yes, how about trying to see some really Weird Attractions and try some Unusual Things at San Francisco? Stay Tuned.
5 Bizarre Attractions & Unusual Things To Do In San Francisco

1. The Wave Organ
The wave organ is a massive musical instrument which is played by the ocean for real. This acoustic sculpture is located on a jetty in the San Francisco Bay. This massive organ was built by an artist Peter Richards in the year 1986. The sculpture was constructed in collaboration with the Exploratorium, and the most interesting part about this sculpture is that it amplifies the sounds of the waves from the Bay.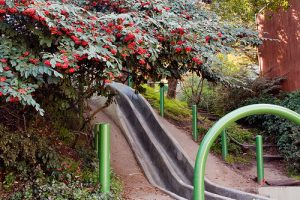 2. Seward Street Slides
Unlike other slides in the children's park the Seward Street Slides are absolutely adult friendly. This concrete slide was built in the year 1960 and was designed by a local teenager. This Street Slides is a twin slide which is a part of Seward Mini Park. In case you have never felt the feeling of sinking, it's time to head for the Seward Street Slides.
3. The Defenestration Building
Have you ever seen people trying to escape from a house? I am sure you would have. But have you ever seen the furniture trying to escape from an abandoned building? I am sure you haven't. Well the word Defenestration means a throwing of a person or thing out of a window. And this building is a strong example of the meaning. Located at Howard & 6th Streets in SF, this building is a sculptural installation done by Brian Goggin which features over 30 pieces of furniture and home-appliances welded to the exterior of an abandoned building.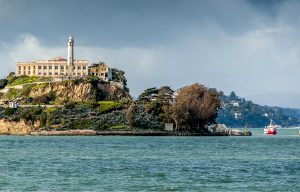 4. Alcatraz Island
Located in the San Francisco Bay, the Alcatraz Island is a small island which was developed with facilities for a lighthouse, a military fortification, a military prison, and a federal prison.  This island is historically very rich as is the home of the oldest operating lighthouse located on the west coast. The Alcatraz island has become a national recreation area; it is also among one of the most popular tourist attraction in SA.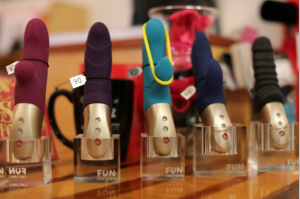 5. Vibrations Antique Vibrator Museum
This is one strange yet interesting concept when it comes to museum's this is a vibrator museum which honours the orgasm and dildo history. The founder of Good Vibrations is Joani Blank, who collected antique vibrators for more than 20 years. The museum displays the so called treasures at the antique vibrator museum in our San Francisco Polk Street store.
So the next time you plan to visit San Francisco, make some time to take the unusual round of this city. It's time to Go Bizarre and I am sure you would love it!
Image Source: Image 1, Image 2, Image 3, Image 4, Image 5, Featured Image.