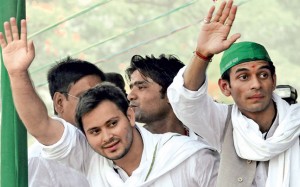 As expected, in the recent transfers and shuffling of senior IAS officers in Bihar, the boss of RJD, Mr.Lalu Prasad Yadav reportedly got a major say. However, this time the reason is not just political, its personal!
Sudhir Kumar and RK Mahajan who are Lalu's two trusted babus, have been brought under his sons, Tejashwi Prasad Yadav and Tej Pratap Yadav's departments respectively, in the transfers initiated on Tuesday.
When Lalu Prasad was the railway minister (2004-09) these two officers had proved to be instrumental in turning around the Indian railways' fortunes.
Sudhir who is a native of Haryana, had served from September 1, 2004 to May 22, 2009 as the OSD to Lalu Prasad in the rank of joint secretary. Similarly, Mahajan, who is a native of Himachal Pradesh, served as the private secretary to Lalu from June 24, 2004 to October 9, 2009.
Retiring in March next year Sudhir, has been moved under CM Tejashwi in the road construction department. And similarly, Mahajan has been shifted under Tej Pratap from education department to the health department. Following the multi-crore drug scam the health department needs an image makeover. This scam took place previous to Nitish rule, as informed by an official who works in the department.
Mahajan's retirement is due in August 2020. Anand Vardhan Sinha (1978), Vijoy Prakash (1981), Amita Paul (1980) and Vyasji (1982) are four other IAS officers to retire in the next year.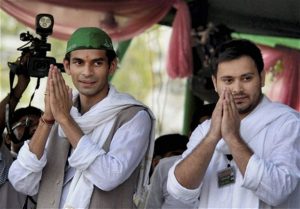 Lalu relies on a very few IAS officials in Bihar. And presently, in the prevailing situation, Lalu is not willing to take any risk, as Nitish Kumar's cabinet number 2 and 3 position is held by his two sons. According to a senior IAS officer, professional grooming is needed to handle crucial departments and create good administrators and that's why Lalu has roped in experienced officers to avoid any embarrassment that his inexperienced sons may bring to the party.
Few Close friends of the two officers disclosed that they work without any type of media hype. Sudhir has been raised to the rank of chief secretary. Along with the chief secretary Anjani Kumar Singh, there are six officers in the CS ranking.
So, as this coalition government move ahead expect many such more IAS and IPS officers shuffles.
Image Sources: Image 1, Image 2, Featured Image.
Meet the Author