WhatsApp is a cross-platform instant messaging application made for smartphones. Users can send instant messages across the world by just making use of their Internet connection. Recently, WhatsApp has come up with the new document sharing feature for Android-operated smartphones, where they can share documents; specifically PDF.
There are many rivals of this messaging app that are already there in the market with such document sharing feature. In this case, WhatsApp is trying to move a step forward from the rest of the competitors. As far as document sharing is concerned, WhatsApp users can just share PDF files. In future, the number of types may increase. Although there is no confirmation from the company about when they are planning to add other commonly used file formats (.doc, .xls). Yet the expectations are high after this release.
How to use this document sharing feature
The procedure is quick and simple. In order to share document files on WhatsApp, you need to press the attachment icon on the top right of the screen and select the 'Document' option. Immediately a list of PDF files stored in the system opens. From there you can navigate and select the file to be shared.
You may have not got the WhatsApp update notification yet. Reason being, the update has not been released to all Android users via Google Play. iOS has also updated the document sharing feature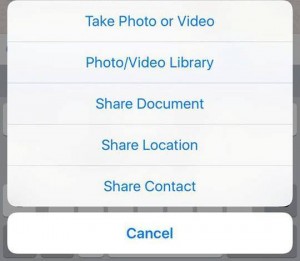 It is not just the Android platform that has received the WhatsApp document sharing feature upgrade notification. The WhatsApp iPhone app also lets you attach files, but from third party apps like Dropbox and OneDrive. However, Android does the PDF files attachment directly.
The update has already started rolling out and should reach to each one of you soon. Till then, users can visit the WhatsApp official website and download the install file directly.
Image Source: Featured Image, Image1, Image2
Meet the Author