Looking for a place that is full of adventure, then Leh-Laddakh is perfect destination for you. Full of snow with chilling cold wind, Leh is situated at the attitude of 3542 meters above sea level in the heart of Himalayas. Those who love travelling should definitely visit Leh-Laddakh at least once in the lifetime. The view and places in Leh-Laddakh will bring awesome feeling side you. Selecting 10 best places to visit in Leh and Laddakh is quite tough, but keeping past experience in mind and making best use of the knowledge, here are the 10 top places to visit near Leh-Laddakh.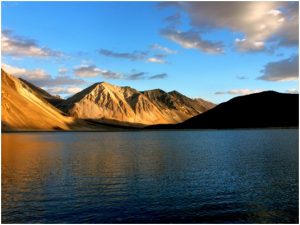 1. Pangong Lake– The view of this lake will make you feel that you are standing in heaven. The location of the Pangong lake is around 4,350 meters above sea level. It is around 150 km from Leh but it is worth to visit as the scenery,the beauty is actually incomparable to anything. While travelling to the Pangong Lake you will find many beautiful places where you can halt and feel the surroundings. Here you need to note down one thing that is 60% of the lake lies in Tibet so make sure you take proper permission before planning.
  2. Shanti Stupa- Shanti Stupa is a white Buddhist domed stupa that is located in the Leh district at an altitude of 4,267 meters above sea level. Either you can go directly from Leh by covering the short distance of 5 km or just simply climb 500 steps from the city of Leh. Shanti Stupa has very beautiful views of the surrounding landscape and was built by a Japanese Buddhist monk Gyomyo Nakamura.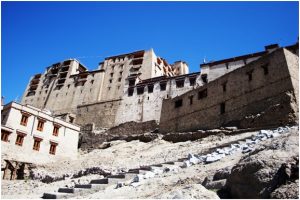 3. Leh Palace– It is a 19 storey palace that is built on the top of the hill in 1553 AD. Royal family used to live here until the palace was attacked by Dogra forces. Currently the palace is under Archaeological survey of India. There is also a museum where a rich collection of jewelry, ornaments, ceremonial dress, paintings and crowns are kept.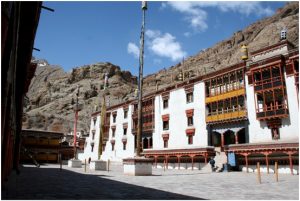 4. Hemis Monastery– Situated before the 11th century, it is 45 km from Leh. It is one of the biggest and wealthiest Tibetan monastery in which largest of all 'Thangka' paintings in Laddakh are kept. Here in Hemis Monastery you can witness the famous annual festival that is being hosted here in the honor of Lord Padmasambhava. If you are lucky enough then might be you get a chance to view endangered "Show leopard" as the Hemis National Park is just nearby only.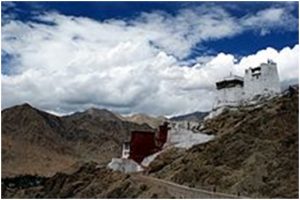 5. Namgyal Tsempo Monastery- Namgyal Tsempo Monastery founded in 1430 and lies on the backside of Leh Palace. While standing at the Namgyal Tsempo Monastery, one can see the view of the Indus river and snow-covered peaks of the Zanskar mountain range. The main center of attraction at the Namgyal Tsempo Monastery is the 3 stories high, golden statue of Maitreya Buddha with different color of natural beauty that changes as the day progresses.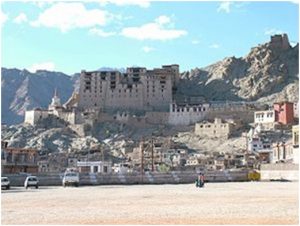 6. Hall of Fame Museum- Due you want to learn about the facts and figures related to Laddhak, then Hall of Fame Museum is a perfect place for you. Every piece of information like culture, history of Laddakh, flora and fauna of Laddakh is maintained here by the Indian Army. Here you will also come across the display of Siachen battlefield, the highest battlefield in the world.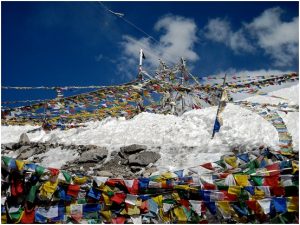 7. Khardung La/ Khardung Pass– Situated at a distance of 40 km from the town of Leh, it has got the highest motor able in the world. It will always remain a journey of challenges and adventures for bikers. It is 5,602 meters above sea level and was built in the year of 1976 and later on it was opened to motor vehicles in 1988. It is also very famous for carrying the military equipments to the Siachen glacier.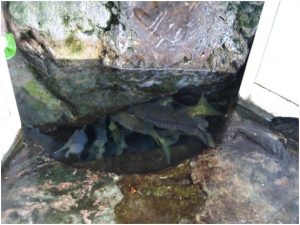 8. Gurudwara Patthar Sahib– The beautiful Gurudwara Sahib was built in 1517 and is 20 kms away from Leh. It is one of the such place which should be definitely be visited. As the name says, there is a Patthar (immovable rock) that is considered to be the negative image of Guru Nanak.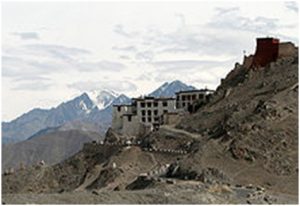 9. Shey Monastery– Shey Monastery is 15 Kms away from the town of Leh and was built within the Shey Palace. Currently the Shey Palace is completely ruined and is being preserved by the Indian government. Royal family were used to live in such Palace. This Monastery was built in 1655 and is very famous for 12 meter high copper statue of Lord Buddha which is plated with gold. Other than that one can also see beautiful wall paintings and a large number of neatly preserved manuscripts that is preserved in the library.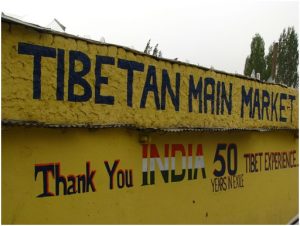 10. Leh Market– Leh Market is worth to visit at least once in your trip. It is basically a small Tibetan bazaar and souvenir shops where you can get items like embroidered patches, Pashmina shawls, prayer wheels and different silver artifacts etc.
Leh-Laddhak is definitely a great place to visit. It will bring a lifetime experience for you. But before planning your trip do make sure that you are physically fit as higher altitude might create few problems for you.
Image Source– Bing.com
Meet the Author