The very popular action star of the Hollywood movies Vin Diesel has unveiled the first look of the much awaited movie xXx: The Return of Xander Cage. He shared the first picture of him and Deepika Padukone while shooting for this film. The photos were taken to Instagram and also on Vin Diesel's official page of Facebook to share Deepika's look in the movie.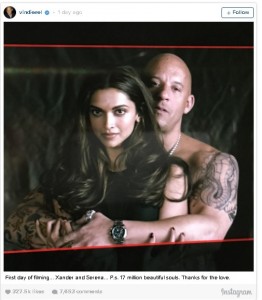 The first picture which was posted has the popular actor wrapping his tattooed arms around the very beautiful Indian beauty. It also came along with a caption-
"First day of filming… Xander and Serena… P.s. 17 million beautiful souls. Thanks for the love"
About the movie xXx: The Return of Xander Cage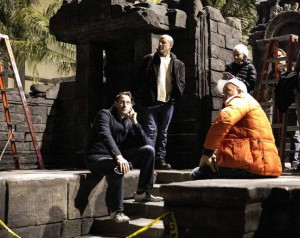 This is an upcoming action film, which is directed by D. J. Caruso. The star cast include popular actors like Vin Diesel, Tony Jaa, Samuel L. Jackson, Jet Li, and Conor McGregor. This movie is a sequel to the 2002 film xXx. This movie will feature three female leads Deepika Padukone, Ruby Rose, and Nina Dobrev.
Deepika Padukone's Hollywood Debut
Popular Indian actress who has made a huge mark in Bollywood, is now all set to rock Hollywood. Deepika is making her Hollywood debut XXX The Return Of Xander Cage staring Vin Diesel.
Vin Diesel Unveils The First look
Vin Diesel shared the first look on his official Facebook page. He says that he thinks the world will go crazy over Deepika's character in the movie. He has uploaded several pictures from the film's shooting location.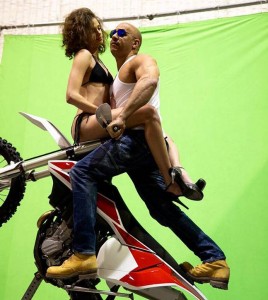 Bollywood beauty Deepika Padukone has been preparing herself for this film. She has been sharing pictures and videos of her training in gym quite often. The training was very much needed for the character which she will be playing in the movie. The shooting of the movie is set to begin in full-fledged form this month. The expected release will be sometime in 2017.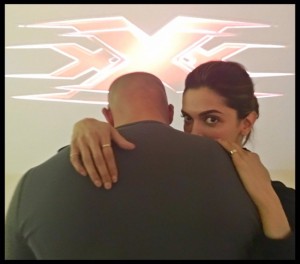 While the movie is just on the way, let's wait for some more updates from these popular actors.
Image Source: Image 1, Image 2, Image 3, Image 4, Image 5, Image 6, Featured Image.