Friday, February 5 Sakurajima which is one of Japan's most active volcano erupted spectacularly. The eruption came with a fiery blast which sent tonnes lava rolling down its slope. This eruption however was not a major eruption and is being considered as an average case, with no reported damages. Watch Video Below –
Highlights of Sakurajima Volcano Eruption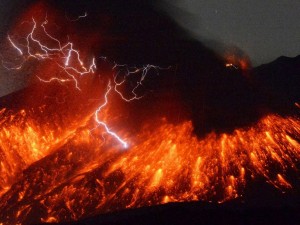 1. Time of Eruption
According to Japan's Meteorological Agency, Sakurajima which is on the southern island of Kyushu erupted at around 11pm NZ Time.
2. Volcanic Lightning
On eruption volcanic lightning was seen at the Mount Sakurajima, which sent fountains of lava into the night sky. The Japanese television had showed an orange burst out at one side of the volcano, near the summit, which was accompanied by lightning-like flashes. There was dark gray smoke curled into the sky.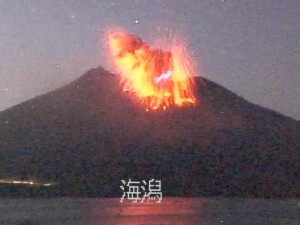 3. Entry Banned to the area
The entry to this area was banned by the Meteorological Agency. The existing no-go zone was expanded around the crater to a 2km radius.
4. No Injuries reported
Till date no case injuries were reported.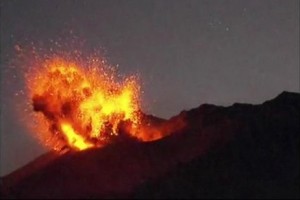 5. Not a Major Case of Volcano Eruption
According to Kyoto University volcanologist Kazuhiro Ishihara, this eruption was an average case of volcano eruption when compared to Sakurajima's past eruptions. In the month of September, the mountain's last major eruption had taken place.
6. Rocks to fall within 2Km out of the crater
As the rocks are emitting out of the crater, they are expected to fall within the 2km zone from the crater.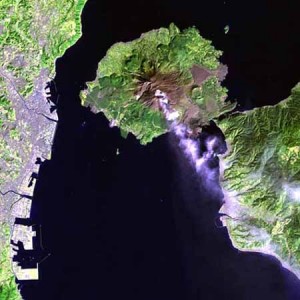 7. Ash and smoke rose just over a mile
According to Kazuhiro Ishihara, the ash and smoke had rose over a mile into the air, which is about half of the height measured in 2013 during one of the mountain's biggest recent eruptions.
8. No serious impact predicted
Volcanologist Kazuhiro Ishihara doesn't now predict ant any serious impact from this explosion. But he also added that the volcanic activity needs to be closely monitored.
Japan sits atop the Pacific "Ring of Fire," which is an arc of volcanoes and fault lines in the Pacific Basin. It has more than 100 volcanoes. There were around 57 people killed in the 2014 eruption of Mount Ontake, which is in central of Japan.
Image Source: Image 1, Image 2, Image 3, Image 4, Featured Image.