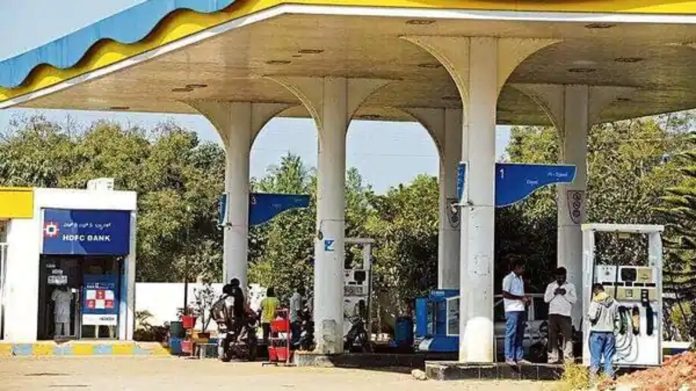 Indisputably, one of the most contentious issues for the global community is the way fuel prices fluctuate in line with geopolitical and geostrategic upheavals owing to various reasons. The energy requirements of the modern world have increased manifolds over the years commensurate with mind-boggling dynamic developments. The governments are not only forced to focus on ensuring the smooth supply side of the fuel necessities but also expected to keep a tab on the prices without allowing the same to head northwards. Mind you, the common citizens are bound to feel the heat of the fuel price rise and the governments cannot afford to antagonize the lower strata of society already burdened with challenging times. India is no exception to this phenomenon.
PC: IANS
As you are aware, the pandemic-enforced restrictions and the ongoing conflict between Russia and Ukraine did have a tremendous bearing on global crude oil prices. Without a viable alternative, the majority of governments around the world were compelled to take action to raise domestic fuel costs to keep up with global trends. Since the majority of India's energy needs are met by foreign suppliers, the country's leadership also increased fuel prices, much to the dismay of the people. We are now aware of the reform initiatives the former central government had started to decontrol fuel prices and align them with market forces. For reasons that are best known to the establishment, the same has not, however, continued.

It looks like the fuel price decontrol stands buried. Note that the monthly average price of the Indian basket of crude began to increase after Russia invaded Ukraine in February 2022. It peaked at $116/bbl in June 2022. By May 2023, the price crashed to $75. But India's retail fuel prices have remained frozen – no changes since May 22, 2022. A year's freeze on retail fuel prices has undone one of the most politically challenging market-oriented reforms that were spread over two political establishments. Remember, petrol prices were deregulated in 2010 and diesel in 2014. Indeed, prices are key market signals, incentivizing both buyers and sellers to adjust. In the absence of such signals, market distortions are inevitable.
PC: PTI
What makes this worse is that India of late hasn't faced a long period of high fuel prices. The surge in crude price last year was short-lived. Since February 2022, the monthly average price exceeded $100/bbl for just five months. In contrast, during the last big surge in crude price between 2011 and 2014, the monthly average crude price overshot $100/bbl in 42 of 43 contiguous months. Fuel price decontrol hasn't benefitted consumers. During the 7-year phase since September 2014 when the monthly average crude price level was often between $40-$60/bbl, the retail price didn't fall proportionately. As such, the union government must revert to a market-priced pricing mechanism forthwith benefitting all, mostly the consumers.