One of the most important characteristics of a democratic form of governance is the sovereign nation's grant of voting rights to its citizens. Without a doubt, the act of nation-building empowers citizens to not only wisely choose their representatives but also to be an important part of witnessing the growth prospects envisaged. What fun is it to be a spectator? The international community would rather be aligned with democratic forms of governance than overwhelmed by autocratic regimes that prohibit free expression. Forget about free expression or speech; citizens in any other form of governance than democracy have no choice but to obey without voicing their opinions.
PC: Ekta Sawant
As a thriving democracy and a world-admired nation known for its constitutionally guaranteed rights and freedoms, India is at the forefront of upholding the virtues of a governance structure that is for, by, and of the people. Of course, a democratic form of governance will appear chaotic, but that is the beauty of it, contributing to the vibrancy, color, and acceptance of diverse viewpoints that make our country what it is. Without a doubt, the most important aspect of the democratic process is the election of representatives for a fixed term. Yes, these representatives are chosen from various political parties to ensure that the nation's progress continues unabated.
We all know that the Election Commission of India is tasked with conducting peaceful and fair elections throughout the year with the equal participation of several government agencies to ensure that the process of electing our representatives goes off without a hitch. No surprise, repeated exhortations from political parties, including the Treasury and Opposition benches, as well as the Election Commission, urging people to vote in large numbers are common. Unfortunately, despite every effort to ensure that registered and eligible voters exercise their right to vote, low voter turnout in major cities is becoming more common. The voter's disinterest in the election process is particularly disheartening.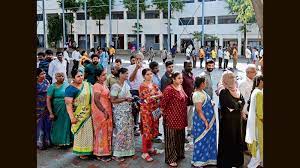 PC: ANI
Take, for example, the recently concluded Karnataka state assembly elections. The capital city of Bengaluru recorded an abysmal 53% voter turnout despite the Election Commission setting the polling date in the middle of the week to discourage people from leaving the city and skipping the polls on one or more pretexts. It is worth noting that these same citizens will become armchair critics, questioning everything and blaming the government in power for failing to deliver. It appears that rot has set in among city dwellers who wish to avoid responsibility by voting in large numbers. Perhaps the children should persuade their parents to vote in large numbers. This is a heinous crime.