Chicken roll is a popular street food in Kolkata. Its humble beginnings were in the need to invent a quick meal for every passerby who had less time; but couldn't let go of the succulent kebabs and parathas. This invention made history.  
Nizam's invented the first 'roll'; a paratha, stuffed with kebabs, fried onions, chillies, a dash of lemon squeezed for perfection and rolled together. It is finally wrapped in a butter paper for a complete meal for commuters to munch when they are in a hurry.
Check out these legendary roll shops in Kolkata!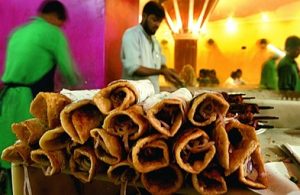 1. Nizam's – New Market: 
They are the one who created the legendary Kati Roll. Even though they went through ups and downs, but their rolls still remain consistently tasty and tops the list for amazingly tasty rolls. Nizam's offers two kinds of rolls; classic rolls with meat kebabs, onions and chutney and Nawab Rolls, which are a new addition, made of the lighter roomali roti and stuffed with kebabs.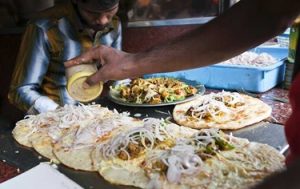 2. Kusum Rolls – Park Street: 
A two decade old shop, famous for its pocket-friendly, yet delicious rolls. For people who love rolls, this little counter will always attract you to order their yummy Egg Roll or the Chicken Roll. Loaded with meat and sauces, yet not overtly spicy; these rolls are light on the pocket and huge on taste.
3.Nawab Snacks Bar- Gariahat: 
Gariahat has many options for rolls; but if you are looking for a light and sumptuous roll, then Nawab Snacks Bar is the right place. It is located on the Gariahat crossing. Unlike the other roll shops which have a thicker, flakier parathas; the parathas here are light, while the stuffing is less spicy with just a hint of lemon to go with it.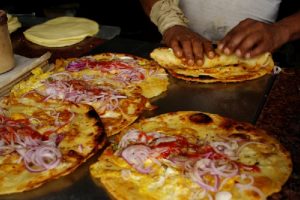 4. Smokachino-Sarat Bose Road: 
Smokachino's specialties are oil-free rolls that are low on calories, but just as high on taste. So if you are a health freak this is a place you want to be.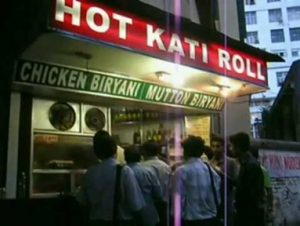 5.Hot Kati Rolls- Park Street: 
Hot Kati Rolls at junction of Park Street, nails it perfectly with their fried paranthas, a row of chicken kati kebabs, onions and pepper. There parathas are oily which is the reason that there parathas are extremely crispy on the sides and inside its filled with crispy onions and delicious soft and juicy chicken.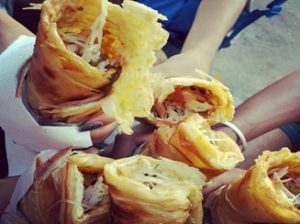 6. Jabbr Afghani- Salt Lake: 
If you love big rolls, then this is the place for it. They offer a usual menu of Chicken Roll, Mutton Roll and Egg Roll, but their specialty are 'Jabbr Rolls' which is as big as 9 inch big paratha, with double egg, double chicken/mutton, and double cheese.
7. Campari- Rash Behari Avenue: 
Campari, located at the centre of the shopping district of South Calcutta, is legendary. Campari is the one stop for all roll-lovers, burdened with their shopping bags. The Campari Special Chicken/Mutton Roll, Tandoori Fish Roll and the Egg Chicken Roll are the famous one.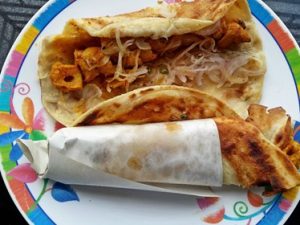 8. Anamika Roll Centre – New Alipore: 
Just like all other roll shops Anamika Roll Centre is also a small establishment on the pavement that lure people with the aroma of food wafting in the air. Customers swear by the Mutton Roll and the Egg Mutton Roll.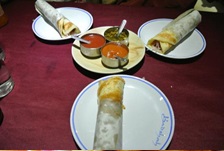 9. Badshah – New Market: 
Badshah, located in New Market area, is among one of the oldest restaurants in Kolkata. It is popular among locals and tourists for its rolls. The restaurant has a dining area and bar.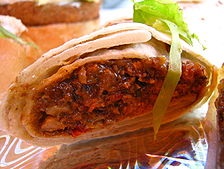 10. Saima Restaurant – Chowringhee Road: 
Saima Restaurant located on the Chowringhee Road offers there speciality i.e. Keema Roll also called Sami Roll on their menu.
Image Sources: Image 1, Image 2, Image 3 ,Image 4, Image 5, Image 6, Image 7, Image 8 , Image 9 , Image 10, Image 11.