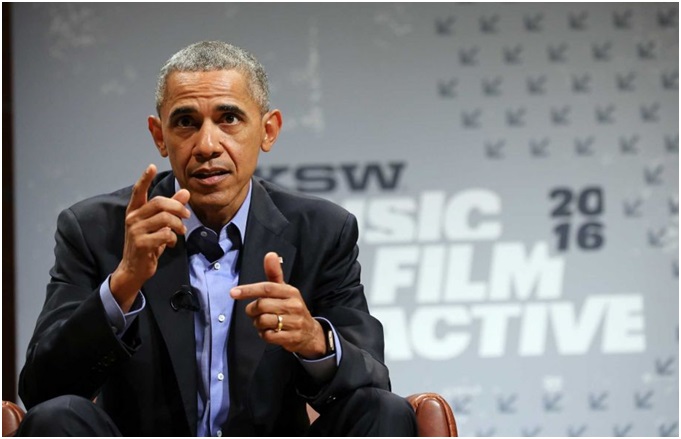 During a keynote at SXSW 2016, President Obama hasn't discussed the ongoing encryption battle in between the FBI and Apple specifically; but he has issued a dire warning to the technological world in regards to the future of the privacy, if it doesn't act now. The president has weighed in on the privacy versus security debate!
President Obama warns against data privacy!
In order to prevent a terrorist attack or enforce tax laws; President Obama on Friday made a statement asking the tech companies to build their mobile devices in such a way so as to allow the government to gain access of such personal data, which deems necessary and fit too. He spoke at the South by Southwest festival in Texas.
No comments on the ongoing case of Apple!
President Obama didn't comment on the legal case of Apple. In the case, the FBI has tried to force Apple Inc. to allow them the access to an iPhone, which was linked to shooter Rizwan Farook of San Bernardino, California.
He said, 'The question we now have to ask is: If technologically it is possible to make an impenetrable device or system where the encryption is so strong that there is no key, there's no door at all, then how do we apprehend the child pornographer, how do we solve or disrupt a terrorist plot?'
Further, he added, 'What mechanisms do we have available to even do simple things like tax enforcement because if in fact you can't crack that at all, government can't get in, then everybody is walking around with a Swiss bank account in their pocket'.
What Obama actually said, apart from the Apple case?
Obama said that the tech sector needs to resolve issues around encryption, or if it entrenches itself on the other side; then it could even face a far more hostile environment. He said, 'Setting aside the specific case between the FBI and Apple, we're going to have to make some decisions about how do we balance these respective risks'.
Further he added, 'My conclusion so far is you cannot take an absolutist view on this. If your argument is strong encryption no matter what and we can and should create black boxes, which I think does not strike the kind of balance we have lived with for 200, 300 years. And it's fetishizing our phones above every other value. That can't be the right answer.'
He continued saying, 'I suspect the answer is going to come down to how do we create a system where the encryption is as strong as possible, the key is as secure as possible, it is accessible by the smallest number of people possible, on a subset of issues we deem important.'
The Apple case and their viewpoint!
Last month, the FBI obtained a court order, which required the tech giant, Apple to write new software and take some other measures so as to disable passcode protection and allow access to Farook's iPhone.
Apple hadn't complied with the order and even has declined to comment on Obama's remarks on Friday. It said the government request would probably create a 'Backdoor' to phones, which then could be abused by criminals and governments. And, even the Congress hasn't given the Justice Department authority to make such a demand.