While medical facilities have advanced with time, the associated risk has increased too. Having a C-Section is one of the most common things you would have heard off; and many of us opt for it. Some opt for C-section voluntarily, while some are forced to because of the associated complications or risk during the pregnancy. But this piece of news could make you worry, recent study shows that Babies Born out Of C-section Have Higher Chances of Obesity. Let's Know more about the study.
Evidence Of A Link Between C-Section & Childhood Obesity – The Study
1. There were a number of previous studies which suggested a link between the cesarean delivery and the higher risk of obesity in offspring, but those studies were either too small to detect a clear association or lacked adequate data. This new analysis included data which was worth 16 years and from more than 22,000 young adults in the Growing Up Today Study (GUTS). A survey was conducted in which the participants answered questions for every year or two years from 1996-2012.
2. The researchers looked the following in the study –
The participants' body mass index (BMI) over time
Whether or not they were delivered via caesarean
Other factors which could play a role in obesity (like the mothers' pre-pregnancy BMI, smoking status, age at delivery, and where they lived)
Whether the mothers had previous cesarean deliveries.
3. According to a large new study, babies delivered by C-section may actually face a higher risk of becoming obese than those born by vaginal birth.
4. The study also found that there is a 15 per cent more likely chance of the individuals to become obese as children if they were born by cesarean delivery. Also the increased risk may persist through their adulthood.
5. Cesarean babies would have a 64 per cent more likely to be obese than their siblings who were born by vaginal birth, said the researchers.
6. It was also found that the individuals born via vaginal birth among women who had previously undergone a cesarean delivery were 31 per cent less likely to become obese as compared with to those who were born via C-section following a cesarean birth.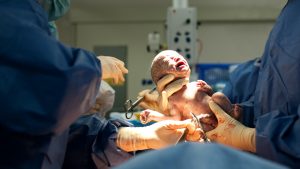 7. Jorge Chavarro, The senior author of the study and associate professor of the Harvard T H Chan School of Public Health in the US, said "Cesarean deliveries are without a doubt a necessary and lifesaving procedure in many cases," he added "But cesareans also have some known risks to the mother and the newborn. Our findings show that risk of obesity in the offspring could be another factor to consider,"
8. About the findings from the study Jorge Chavarro said "I think that our findings – particularly those that show a dramatic difference in obesity risk between those born via cesarean and their siblings born through vaginal delivery – provide very compelling evidence that the association between cesarean birth and childhood obesity is real," he added "That's because, in the case of siblings, many of the factors that could potentially be playing a role in obesity risk including genetics, would be largely the same for each sibling – except for the type of delivery,"
The research unfolds a new side of the C-section deliveries isn't it? Be careful! At the end its your decision.
Image Source: Image 1, Image 2, Image 3, Featured Image.