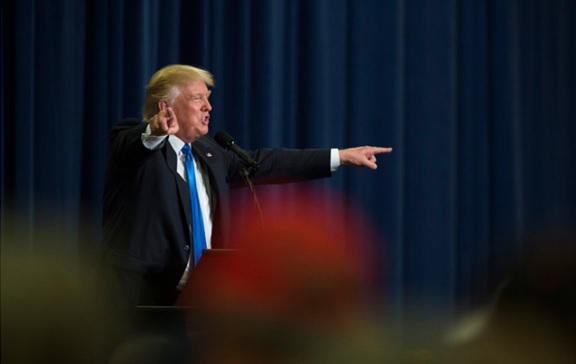 Fifty of the nation's most senior Republican national security officials, many of them former top aides or cabinet members for President George W. Bush, have signed a letter declaring that Donald Trump "lacks the character, values and experience" to be president and "would put at risk our country's national security and well-being."
Mr. Donald Trump, the officials warn, "would be the most reckless president in American history."
The letter says Mr. Donald Trump would weaken the United States' moral authority and questions his knowledge of and belief in the Constitution. It says he has "demonstrated repeatedly that he has little understanding" of the nation's "vital national interests, its complex diplomatic challenges, its indispensable alliances and the democratic values" on which American policy should be based. And it laments that "Mr. Trump has shown no interest in educating himself."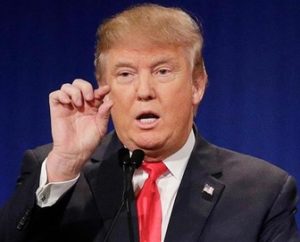 "None of us will vote for Donald Trump," the letter states, though it notes later that many Americans "have doubts about Hillary Clinton, as do many of us."
While foreign policy elites in both parties often argue among themselves — behind closed doors, or politely in the pages of Foreign Affairs magazine — it is extraordinarily rare for them to step into the political arena so publicly and aggressively. Several former midlevel officials issued a similar if milder letter in March, during the primaries. But Monday's letter included many senior former officials who until now have remained silent in public, even while denouncing Mr. Trump's policies over dinners or in small Republican conclaves.
Late Monday, Mr. Donald Trump struck back. The signatories of the letter, he said in a statement, were "the ones the American people should look to for answers on why the world is a mess, and we thank them for coming forward so everyone in the country knows who deserves the blame for making the world such a dangerous place." He dismissed them as "nothing more than the failed Washington elite looking to hold onto their power."
Mr. Donald Trump correctly identified many of the signatories as the architects of the invasion of Iraq and its aftermath. But he also blamed them for allowing Americans "to die in Benghazi" and for permitting "the rise of ISIS" — referring to the 2012 attacks on the American mission in Libya and the spread of the Islamic State, both of which occurred during the Obama administration. At the time, most of Mr. Trump's Republican foreign policy critics were in think tanks, private consultancies or law firms, or signed on as advisers to the Republican hopefuls Mr. Trump beat in the primaries.
Among the most prominent signatories are Michael V. Hayden, a former director of both the C.I.A. and the National Security Agency; John D. Negroponte, who served as the first director of national intelligence and then deputy secretary of state; and Robert B. Zoellick, another former deputy secretary of state, United States trade representive and, until 2012, president of the World Bank. Two former secretaries of Homeland Security, Tom Ridge and Michael Chertoff, also signed, as did Eric S. Edelman, who was Vice President Dick Cheney's national security adviser and as a top aide to Robert M. Gates when he was secretary of defense.
Robert Blackwill and James Jeffrey, two key strategists in Mr. Bush's National Security Council, and William H. Taft IV, a former deputy secretary of defense and ambassador to NATO, also signed. Mr. Blackwill, a former aide to Henry A. Kissinger, is expected to endorse Mrs. Clinton this week.
The letter underscores the continuing rupture in the Republican Party, but particularly within its national security establishment. Many of those signing it had declined to add their names to the letter released in March. But a number said in recent interviews that they changed their minds once they heard Mr. Donald Trump invite Russia to hack Mrs. Clinton's email server — a sarcastic remark, he said later — and say that he would check to see how much NATO members contributed to the alliance before sending forces to help stave off a Russian attack. They viewed Mr. Trump's comments on NATO as an abandonment of America's most significant alliance relationship.
Mr. Trump has said throughout his campaign that he intends to upend Republican foreign policy orthodoxy on everything from trade to Russia, where he has been complimentary of President Vladimir V. Putin, saying nothing about its crackdown on human rights and little about its annexation of Crimea.
The sharp split in the Republican Party raises the question of whom Mr. Trump will turn to for institutional memory if he is elected. The officials he denounced made plenty of mistakes, some of which they acknowledge and some they gloss over. But they are also the party's repository of experience of economic, diplomatic and military strategies, both successful and failed. Mr. Trump's own bench of foreign policy advisers has had comparatively little experience.
Missing from the signatories are any of the living Republican former secretaries of state: Mr. Kissinger, George P. Shultz, James A. Baker III, Colin L. Powell and Condoleezza Rice.
Mr. Trump met with Mr. Kissinger and Mr. Baker several months ago, and "I came away with a lot of knowledge," he told The New York Times in a July 20 interview. But neither of the two, who represent different foreign policy approaches within the party, has said if he will endorse Mr. Trump.
It is unclear whether the former secretaries plan to stay silent or will issue their own statements. But particularly striking is how many of Ms. Rice's closest aides at the White House and the State Department, including Philip Zelikow, Eliot A. Cohen, Meghan O'Sullivan, Kori Schake and Michael Green, are all signatories.
"We agreed to focus on Trump's fitness to be president, not his substantive positions," said John B. Bellinger III, who was Ms. Rice's legal adviser at the National Security Council and the State Department, and who drafted the letter.
He said that among the signatories, "some will vote for" Mrs. Clinton, "and some will not vote, but all agree Trump is not qualified and would be dangerous."
The Clinton campaign appeared to be aware that the letter was circulating and encouraged it, but played no role in drafting it, several signatories said.
Yet perhaps most striking about the letter is the degree to which it echoes Mrs. Clinton's main argument about her rival: that his temperament makes him unsuitable for the job, and that he should not be entrusted with the control of nuclear weapons.
"He is unable or unwilling to separate truth from falsehood," the letter says. "He does not encourage conflicting views. He lacks self-control and acts impetuously. He cannot tolerate personal criticism. He has alarmed our closest allies with his erratic behavior. All of these are dangerous qualities in an individual who aspires to be president and commander in chief, with command of the U.S. nuclear arsenal."
Mr. Trump responded in his statement that his vision was "one that is not run by a ruling family dynasty. It's an America first vision that stands up to foreign dictators instead of taking money from them, seeks peace over war, rebuilds our military and makes other countries pay their fair share for their protection."
Source: NY Times
Image source: Image