Fort Worth grew out of a military post established in 1849 and rapidly developed into a leading cattle-ranching center. Just 32 miles west of Dallas, Fort Worth has held its own in terms of development and importance despite its proximity to its larger relative, and is home to numerous excellent art galleries and museums, some of which celebrate the city's past as a cattle town, while others host important art collections from around the globe.
1 Fort Worth Stockyards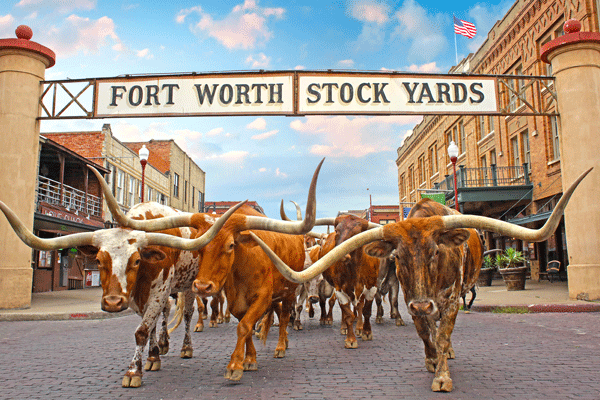 Established in 1866, Fort Worth Stockyards National Historic District owes its fame and unique character to the cattle industry. The last big stopover on the Chisholm Trail – and the last remaining historic stockyard in the US – these once saw millions of cattle pass through.
2 The Nancy Lee and Perry R. Bass Performance Hall
Widely regarded as one of the best and most important theaters in Texas (if not the US), the Nancy Lee and Perry R. Bass Performance Hall – usually simply referred to as the Bass Performance Hall – opened in 1998 and is well worth a visit.
3 Amon Carter Museum of American Art
Established in 1961 to host a collection of artwork by Frederic Remington and Charles M. Russell, the Amon Carter Museum has expanded considerably over the decades to encompass all facets of American art.
4 Editor's Pick Fort Worth Botanic Garden
One of the city's most popular tourist attractions, Fort Worth Botanic Garden is spread over 109 acres and is a great place to visit any time of year. Established in 1934, it's home to 2,500 species of plants laid out in 23 unique gardens, with highlights including the Fragrance Garden; the Japanese Garden with its many quaint paths, ponds, and bridges; the Rose Garden; and the Conservatory.
5 Sundance Square
One of Fort Worth's most popular destinations for visitors and locals alike is Sundance Square, a privately owned, 35-block section of the historic downtown core that is chock-a-block full of fun. Consisting of a mix of residential, commercial, retail, and entertainment buildings and named after the infamous outlaw, the Sundance Kid, the area is safe and fun to explore on foot thanks to its many pedestrian zones. In addition to restaurants, cafés, and hotels, Sundance Square contains many excellent shopping opportunities, from high-end boutiques and interesting art galleries to large department stores.
6 Fort Worth Zoo
Established in 1909, Fort Worth Zoo got off to a humble start with just a handful of animals, but over the years, it has grown into a large-scale facility with thousands of creatures from around the world. After major upgrades in the early 1990s, the zoo opened a number of new exhibits that have since raised its status to one of the city's major attractions, as well as being ranked among the top 10 zoos in the US.
7 Kimbell Art Museum
The Kimbell Art Museum is an architectural delight housing an important art collection. Designed by Louis I Kahn and opened in 1972, the museum's creative use of natural light is particularly interesting, and wandering the grounds is a fine way to spend time, particularly at dusk.