Indore is famous about its forts and monuments, but it's also famous for the delicious local food in Indore. You should be a foodie to enjoy the mouth-watering foods in the city. It has all types of foods starting from Namkeens to sweets, from Chaat to hardcore three-course Mughlai and North Indian food; Indore has something for everyone.
Kebabsville Sayaji, Vijaynagar, Indore :
This place has to be in the top favorites for all looking for awesome dining experience in Indore. The restaurant is located at the pool side and has a great ambience to sit back and enjoy, serving 10 different types of kebabs (Veg and Non-Veg) followed by a buffet dinner which includes soups, starters, curries and sweets. Offering a great dining experience it is very much comfortable for one's pocket.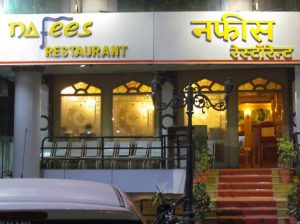 Nafees Restaurant Palasia, Indore: 
 Simply one of the best for meat lovers, so If you are a non-vegetarian, Nafees is the place you got to be. They offer a variety of mouth-watering non-veg delicacies, with extremely tasty curries which can be complimented with roomali rotis or steaming hot flavored basmati rice. Nafees dishes not only looks awesome but taste out of the world.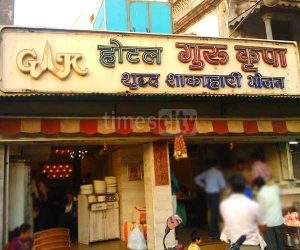 Guru Kripa Sarvate Indore:
Located near the Sarvate Bus Stand it is one of the most famous place for vegetarians. It is a budget friendly restaurant that offers a menu with all the dishes which is a must try.
Usually this place stays crowded, so one needs to wait for some time for their turn. So if you are planning up on a weekend it could cost you some extra waiting time.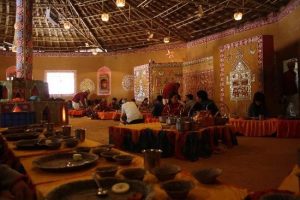 Nakhrali Dhani, Rau, Indore:
Located in the outskirts of the city, this place is about something more than food. It gives an awesome experience, designed in a way you would feel you have reached some village in Rajasthan. They serve traditional Rajashthani Cuisine which is very rich in oil, may be that the secret to its taste. So this place is perfect to spend a full day with family and friends over a weekend. This might be a little on the expensive side.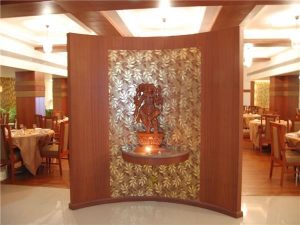 Jee Bharke Bharaurant
With extremely beautiful interiors that make us feel at home; this restaurant offers multi-cuisine food. It's a perfect place to hang out with friends and family. Few of there not to miss delicacy are Paneer Tikka, Butter Khichdi and Chinese. A decent crowd of all type comes to this restaurant empty belly and the restaurant ensures that there customers have a JEE BHARKE experience.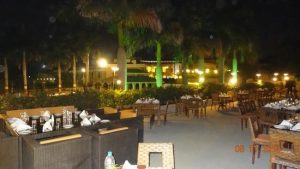 Red Maple Mashal, Rau, Indore: 
Mashal hotel is situated on a tiny hilltop in the outskirts of the city. If you are fond of eating under the open sky, this can be the best option. The experience of a 10-15 kilometer view over a drink is complimented by awesome food. The restaurant's owners ensure a perfectly quiet atmosphere which gives a very relaxing dining experience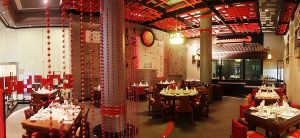 Chopstick City
The just right place for Chinese food lovers. Chopstick City offers Chinese cuisine right in the center of Indore. They offer authentic dishes from Chinese cuisines which makes it unique in the city. The food is very delicious, the prices are great.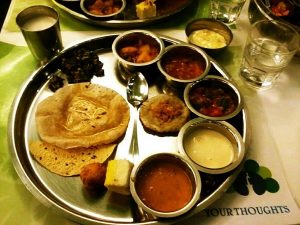 Chotiwala M.G. Road, Indore:
It's a very popular eating joint in Indore. It serves delicious vegetarian Indian food. Veg Thali is a must try, which has a huge variety of dishes in one single platter. Very affordable, so if you are running low on funds this is the right place for you.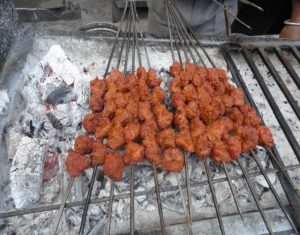 Pishori Dhaba Bhawarkuan Indore:
Situated at Bhawarkuan, this restaurant is famous for its Punjabi style non vegetarian food. Extremely famous with the young crowd of the area that prefers to take away or don't bother about the location there are eating at. So it's not a good option if you want to sit back and relax over food.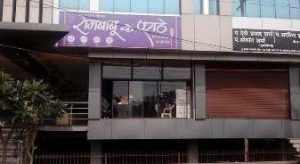 10. Rambabu Ke Parathe Scheme 54 Indore:
 For Paratha lovers Rambabu is the just right place located in Vijaynagar, this fast food center offers over 15 varieties of delicious paratha's complimented with Rambabu ka Raita it's just perfect food that's making your tummy go yummy.
Sources: Image 1, Image 2, Image 3, Image 4, Image 5, Image 6, Image 7, Image 8, Image 9, Image 10, Featured Image