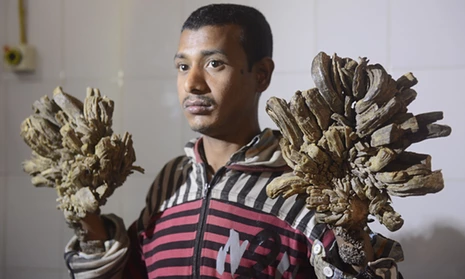 Abul Bajandar, is a 26 year old man, now popularly known as "The Tree Man", and is suffering from a very rare disease called as Tree Man Disease. He lives in Paikgacha Upazila's Sorol Village with his wife and three year old daughter. Even doctors are not able to found a cure for this disease but they only can lessen the pain of the person by doing surgeries and removing the warts.
Abul, on a certain rainy day in 2005, first noticed the warts (roots) growing out of his hands and few from his legs.  Since then, few years later, the warts multiplied and sprouted like tree roots and eventually disabling the ability of his hands and legs to do any kind of works and thereby making it useless. The warts weight approximately 5 kg and it's just very painful when he tried to move his limbs. At first, he tried cutting the warts by himself but the pain was so extreme that he just couldn't. So, he went to a village for treatment, but this made his condition worse. He even went to Kolkata five times in the last five years. After third-fourth visit, the doctor told them that there is no medicine that can cure this and so they should opt for surgery.
Abul and his family had spent approximately 2 lakhs and still they have not found a cure to his illness. When all hopes of his recovery were down, Abul approached Sunil Das, The Bureau Chief of SATV . Since then Sunil contacted his friends and doctors at home and abroad and finally Abul was referred to the Dhaka Medical College Hospital (DMCH) Burn Unit, alongwith money raised from few journalists, doctors and expatriate worker. Abul sits at DMCH in Dhaka on January 31st, 2016.
A rarest of disease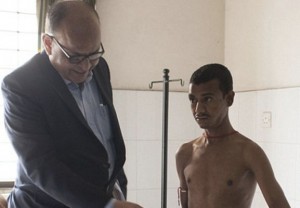 Dr. Samanta Lal Sen, at DMCH, said they may not be able to cure his illness fully but will at least try to make his hands and legs functional. He and his team examined Abul  Saturday morning and named his illness as "Epidermodysplasia Verruciformis", a rare genetic disease that makes the person susceptible to skin growths, or formerly called as Tree Man Disease.
A team of five members will decide about the investigation, diagnosis and treatment of Abul's medical case which would be completely free of cost. After observing, they said that since Abul can move his fingers, they might try to remove the extra flesh and skin and make his index finger and thumb functional through plastic surgery. While performing the surgeries, they will make sure that no damage is caused to his major nerves and maintaining his health.
Four other similar cases were reported long ago and they were also facing the same illness which Abul is facing. A Toader, Romanian Man was the first to be diagnosed with this disease in March 2007. The others are Dede Kosawa, Zainal and Ivan. Dede and Zainal are from Indonesia and Ivan is from Netherlands, who were suffering from the "Tree Man Disease".
The problem with Tree Man Disease is that, till Date, "No Cure Has Been Found". The warts can be removed surgically but they will come back after sometimes, slower or faster. A case of Dede Kosawa has been on the Discovery Channel as documentary tilted as "Treeman : Search For The Cure"
Image Source: Image 1 Image 2 Featured Image