You have seen tigers mostly in a zoo, but have you ever thought what is going to be watching tiger at their natural habitats that is in jungle. Yes, it will be the most exciting, delightful at the same time scary experience of your life. There are many 'Wildlife Sanctuaries' in India who are working for a cause of saving tigers and other endangered species from getting extinct. If you want to enjoy the forest and the limitless range of wildlife, then India is the best country for you. As a fact, India houses the largest population of wild tigers in World.
Here are the Top 10 Indian Wildlife Sanctuaries for Tiger Sighting–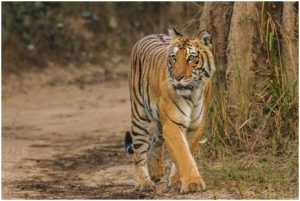 1. Corbett National Park, Uttarakhand:
Corbett National Park has been named after popular wildlife story writer Jim Corbett. Established in 1936, it is the oldest and one of the best national parks in the country today. Imposing Bengal Tigers, this park is located on top of the Himalayan range of Uttarakhand. If you are looking for wildness beauty, then this one is best for you. This park has the largest Tiger population in the World.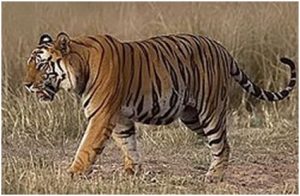 2. Bandhavgarh National Park, Madhya Pradesh: 
Bandhavgarh National Park is one the best national park listed here. Bandhavgarh National Park, who was established in 1968, is one of the largest national parks located in the Umaria district of Madhya Pradesh. This national park is very much popular for White Tigers, Leopards and deers.Bandhavgarh has the highest tiger density in World.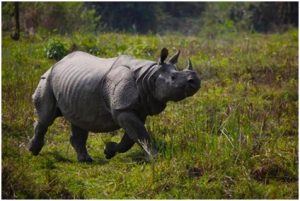 3. Kaziranga National Park, Assam: 
This national park is located in the Golaghat district of Assam and is the only home left for endangered One-Horned Rhinos in India. This is one of the largest and highly visited park of North East India. Other than Rhinos, you can also find a large number of tigers and other wild species. It was declared as Tiger Reserve Forest in 2006.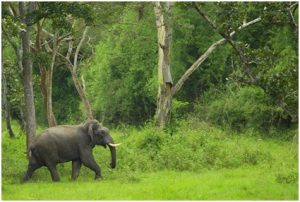 4. Bandipur National Park, Karnakata:
Bandipur National Park is a very popular national park located in South India. It is 80 km away from Mysore and almost 215 km away from Bangalore. Full of dense forests and wild species like Elephant and Tigers, Bandipur National Park is unique in itself. It is the largest national park in the state of Karnataka.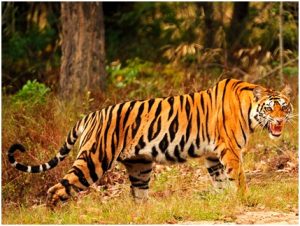 5. Kanha National Park, Madhya Pradesh:
Established in 1955, Kanha National Park is a home of many wild species specially Swamp Deer, also known as 'Barasingha'. It is one of the cleanest and well maintained national park of India. Other than the Tigers and other wild animals, sunset point called Bamni Dadar is also a point of attraction for tourists.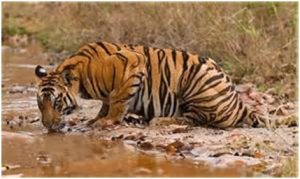 6. Pench National Park, Madhya Pradesh:
This park is also known by another very famous name called 'Mowgli Land' as Rudyard Kipling's 'The Jungle Book' is based on the surrounding of this national park only. Other than Tigers, Leopards, Sloth Bear, Wild Dog, Barking Deer tourist also get a chance to see 170 species of different birds here.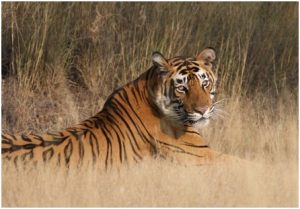 7. Ranthambore National Park, Rajasthan:
It is one of the top class national parks which India have today. The royal tigers are the pride of this national park. Ranthambore National Park has been surrounded by Banas and Chambal River and it is the habitat for many predators and wild animals like Leopard, Nilgai, Wild Boar, Sambar and Hyena.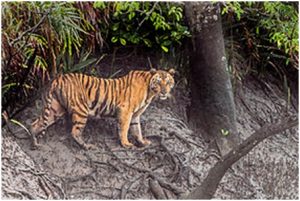 8. Sunderbans National Park, West Bengal– Sunderbans National Park lies in the deltaic region of India sharing boundaries with Bangladesh. You can see mangrove forests all around with salt water covering most of the part of the park. It is being said that Sunderbans is also the home of man eating tigers. Other than Royal Bengal Tigers you can also find salt water Crocodiles, reptiles and other endangered species like Gangetic Dolphin, River Terrapin, Hawks Bill Turtle and Mangrove Horseshoe Crab.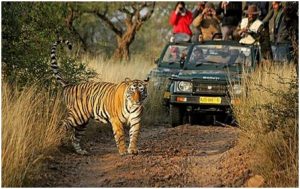 9. Dudhwa National Park, Uttar Pradesh:
The establishment of Dudhwa National Park was done in 1958 because of the presence of wild Swamp Deer. Later Dudhwa Tiger Reserve came into existence due to the presence of a large number of majestic tigers all around the national park.The Dudhwa National Park has many wild species together with dense forest all around.
10. Panna National Park, Madhya Pradesh:
Panna National Park is one of the popular national parks in the nation. Situated in 1994, Panna National Park, originally had gotten many tigers in the past but due to illegal activities like poaching a heavy downfall in the number of Tigers are seen in the last few years. Chital, Chinkara, Sambhar, Sloth Bear, Bar-headed Goose and King Vultures are some commonly seen animals.
Apart from above, there are many Tiger parks like Rajaji, Tadoba, Kishanpur and Wayanad along with few others which are worth visiting once.