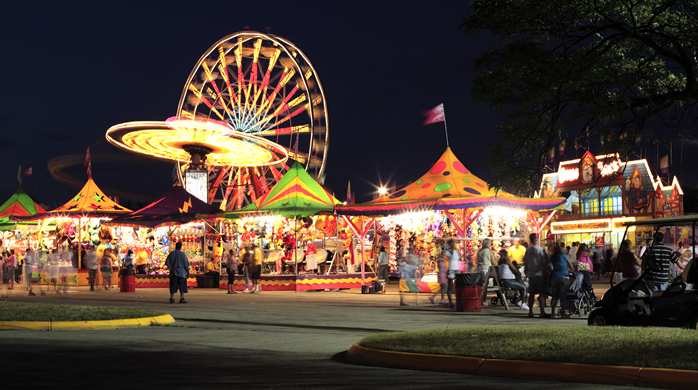 December is the year's final month. With the New Year on the horizon and the holiday season in full swing, Texas is plenty festive in December. From light trails to parades, college football bowl games to unique fairs and festivals, there is literally something different happening every weekend in Texas during the year's final few weeks. And, of course, the month ends with the year's biggest celebration — New Year's Eve.
1. Catch a College Football Game
Texas is a football crazy state. Not only is the Lone Star State home to some of the nation's top pro, college and high school football teams, it plays host to several college football bowl games during December (and January). Ft Worth's Bell Helicopter Bowl, the Meineke Car Care of Texas Bowl in Houston, El Paso's Hyundai Sun Bowl, and San Antonio's Alamo Bowl are all held during the month of December.
2. Dress Up Like a Dickens' Character
Now in its fourth decade of existence, Dickens on the Strand transports revelers back to the time of Charles Dickens for a weekend by providing non-stop entertainment on six stages, parades, street musicians, carolers and more – all dressed as characters from Dickens' novels. There are also over 150 costumed vendors lining the historic Strand, where the event takes place. And, there are plenty of children's activities, including the Royal Menagerie Petting Zoo and a snow area for the kids to play in.
3. Take in a Holiday Light Trail
If you are hoping to view Christmas lights during your visit to Texas, you are in luck. There are several holiday light festivals and trails across the Lone Star State during the month of December. From Whistle Stop Christmas in Cleburne to Jefferson's Holiday Trail of Lights, the Annual Hill Country Regional Lighting Trail to Texarkana's Twice As Bright Festival, Texas is illuminated in Holiday Lights from border to border and everywhere in between during December.
4. Run the Rock
Held during the peak of the holiday season, the White Rock Marathon challenges Texans to take part in a healthy pursuit at a time when most folks are putting on pounds. Of course, you don't have to be a marathoner to 'Run the Rock.'
5. Attend a Holiday Festival
From mid-December through early January, there are a variety of holiday themed festivals and events held across the Lone Star State, giving visitors a number of options of how to spend the holiday season. Throughout the month of December, there are a number of holiday light trails on display.